New Hyundai Research 2019 Hyundai Tucson in Southfield MI for Sale in Southfield, MI
Research 2019 Hyundai Tucson in Southfield MI
View Inventory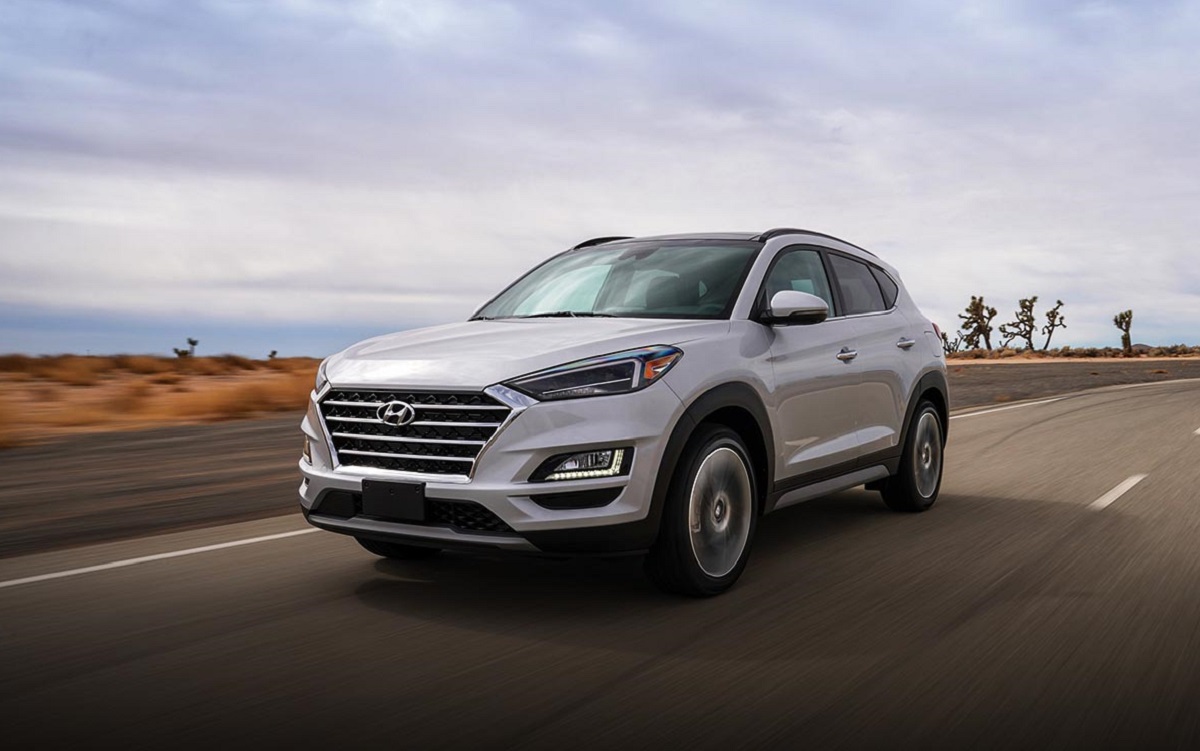 Vehicle Overview
The new Tucson is redesigned with comfort and technological innovation in mind. Its interior and exterior are more stylish than ever. A new powertrain is introduced and standard safety features significantly upgraded. Considerable thought went into restructuring the interior. The redesign focused on high-tech features like a Blue Link connected car system. While the overall style of the exterior remains the same, there are some distinctive changes. Most notable are the bigger grille, smaller headlights, and added chrome around the outside. The 2019 Hyundai Tucson goes on sale in the fall of 2018.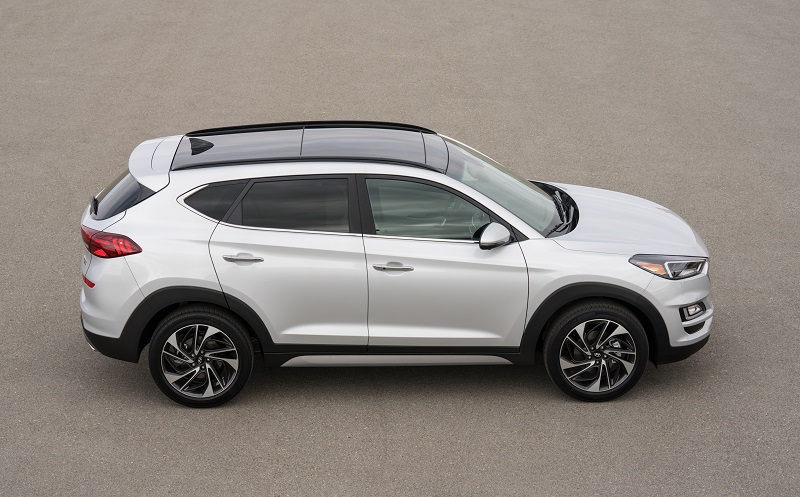 2019 Hyundai Tucson's Exterior
The Tucson's exterior gets a new look in 2019. Highlighting this exciting design is a cascading grille. The grille is now larger while the LED daytime lights are smaller. The elegant front-end flow does not stop there. Reshaped headlights compliment the face of the Tucson. Functional improvements were also made to the exterior. Both practical and safety feature in one, the new fog lights provide intense illumination from their placement in the lower front end. Rear visuals aesthetics were not left out. Tail lights exude a radiant new look from the rear of the vehicle. Liberally added chrome trim complements the redesigned alloy wheels. 17-, 18- and 19-inch wheels come standard in succession through higher end models.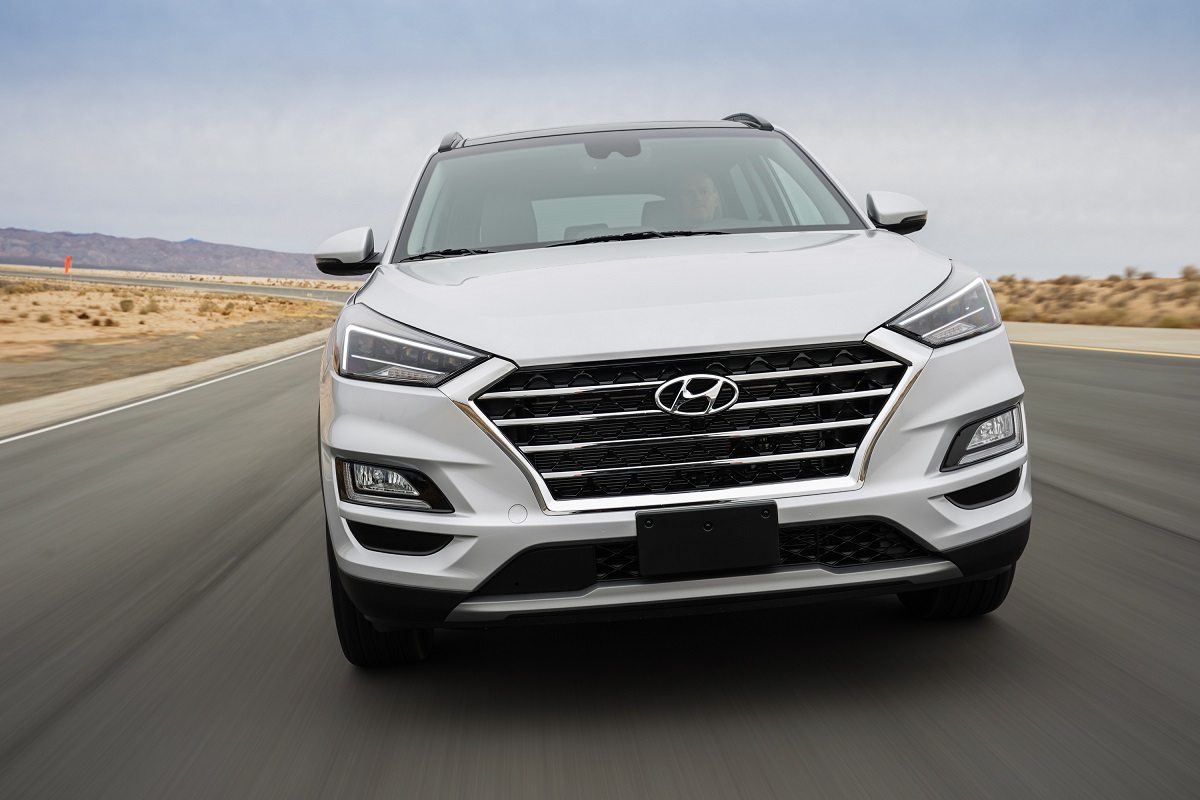 2019 Hyundai Tucson's Interior
The biggest changes occur throughout the Tucson interior. The entire dashboard gets a redesign. Standing out among the changes is a revamped center stack. Now sitting above the dashboard is a 7-inch touchscreen infotainment system. The system actually operates as a floating touchscreen. It is standard for all models, including the SE. The accompanying audio system comes with standard Apple CarPlay and Android Auto. Another feature that enabled major changes to the center console is an electronic parking brake which is also standard on all models. Resituated air vents improve upon the cabin atmosphere.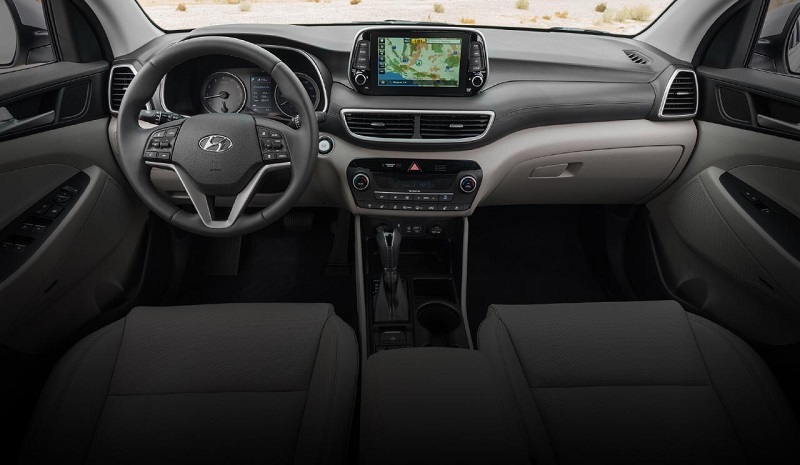 New leather seats add to an already comfortable environment. Seating is available for up to eight passengers in a three-row configuration. Other available options include a second-row USB charging port. The Limited model can also be fitted with Qi wireless for charging smartphones. With all the changes, the 2019 Tucson retains its distinctive shifter design. Dashboard instruments feature two analog gauges on either side of a center display. Operating the vehicle not only comes with more options but it is more efficient. The layout is brilliant, so expect the same feel and convenience that drivers have come to know in its straightforward physical controls.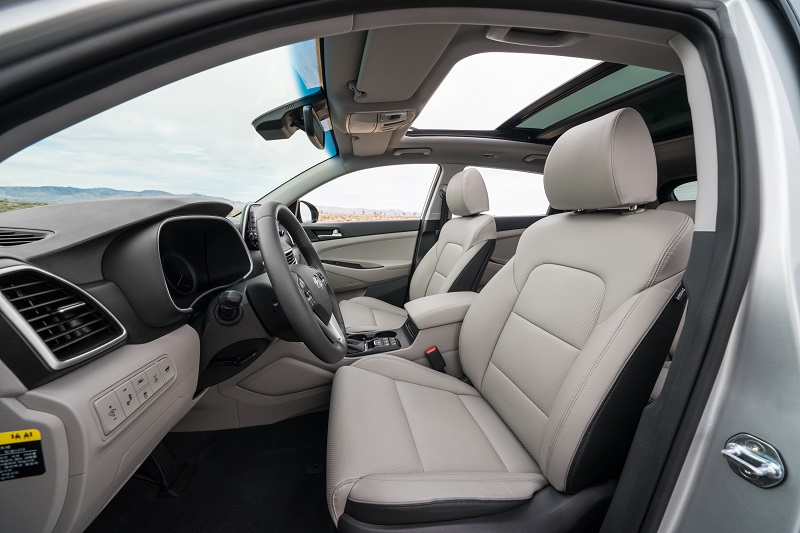 2019 Hyundai Tucson's Mechanical
Tucson's mechanics focus on the driving experience, delivering more power, and safety. Driver assist features come standard on all 2019 Tucson models. They serve to both enhance the driving experience and ensure the safety of the vehicle's occupants. See the section on Safety for more information about the driver-assist systems. Tucson models are equipped with either of two engine upgrades, each with more power than the previous year. Both come with an optional adaptive cruise control. This smart cruise control comes with stop/start technology. An electronic parking brake is also standard. The Powertrain section discusses the engine in detail.
2019 Hyundai Tucson's Powertrain
Hyundai made a major change to the Tucson base engine. There are two options available now. The distinctive seven-speed automated manual transmission is no longer available. The 1.6-liter turbocharged four-cylinder engine is replaced by a 2.0-liter four-cylinder six-speed automatic transmission. The SE and Value models sport this base powertrain. While the dual-clutch was retired in favor of a new base engine, the larger engine carries over from last year. Drivers of the 2019 Tucson are reassured by a dependable and powerful 2.4-liter four-cylinder engine. The larger engine comes standard on the SEL, Sport, and Limited models. The base 2.0-liter produces 164 horsepower with 151 lb-ft of torque, while the 2.4-liter upgrades to 181 horsepower and 175 lb-ft of torque. A six-speed automatic transmission engages both engines. Front-wheel drive comes standard. However, all models can be upgraded to all-wheel drive.
2019 Hyundai Tucson's Safety
All 2019 Tucsons now come equipped with standard active safety features that were once only available on the higher priced models. Emergency systems include forward-collision warning and automated braking. Also standard are lane-keeping assist and lane-departure warning. Active safety options pair with driver-assist systems. These options include driver attention warning, pedestrian detection, surround-view camera, automatic high beams, and rain-sensing wipers. 2019 base prices expect to remain near the 2018 models that started at just over $23,000. Call or visit a Southfield Hyundai dealer for more information. Ask about Southfield specials.
Contact a Local Dealer in Southfield Michigan
Hyundai took great care in redesigning its SUVs. The 2019 Hyundai Tucson might just be its prized jewel. The Tucson epitomizes the crossover vehicle. Its popularity and proven dependability make it the compact crossover of choice. You can purchase the 2019 Hyundai Tucson in Southfield MI this fall. Glassman Hyundai is a prominent Southfield Hyundai dealer that is dedicated to satisfying its customers. Their rates are very reasonable. The reputation of Glassman Hyundai is well known in Southfield Michigan and throughout the surrounding areas. Look out for their frequent Southfield specials.
*Article for general informational purposes, for complete details please contact the dealership.