New Hyundai Detroit Review – 2021 Hyundai Santa Fe near Detroit l Southfield Michigan
Detroit Review – 2021 Hyundai Santa Fe
*Not actual vehicle
View Inventory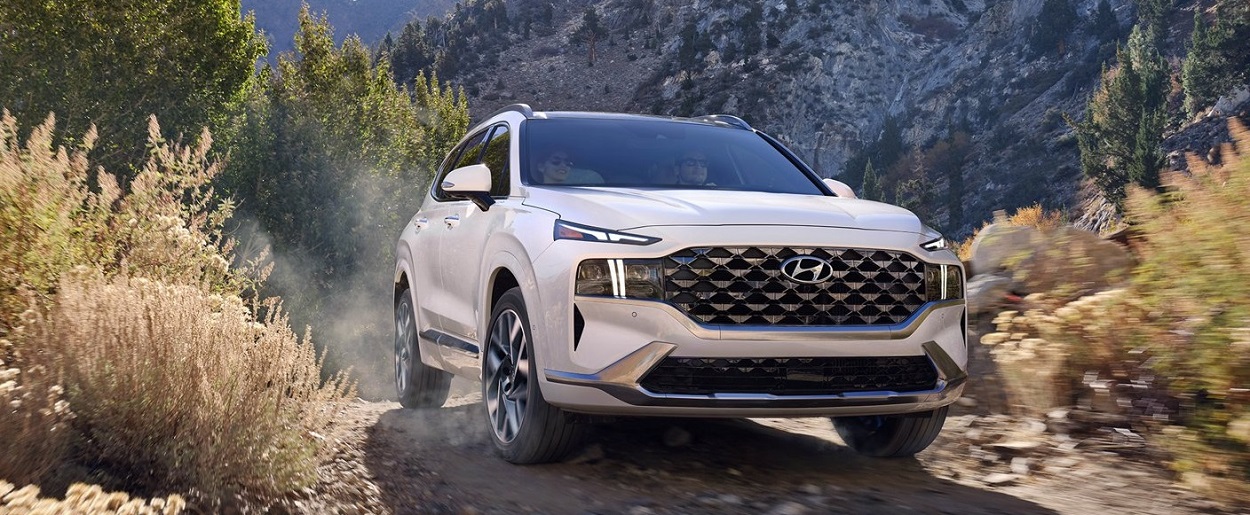 Vehicle Overview
The grille of the 2021 Hyundai Santa Fe is one of its most striking new features. Part blacked out, part chrome, part diamond, the design is one of the top new grilles in the automotive world, and it turned more than a few heads since people first saw it here at Glassman Hyundai. Sharp good looks and flowing design aren't the only thing to appreciate about the new 2021 Hyundai Santa Fe near Detroit, though. Hyundai's patented safety tools and technology are packed into every single 2021 Hyundai Santa Fe near Detroit. This is a smarter Santa Fe.
*Not actual vehicle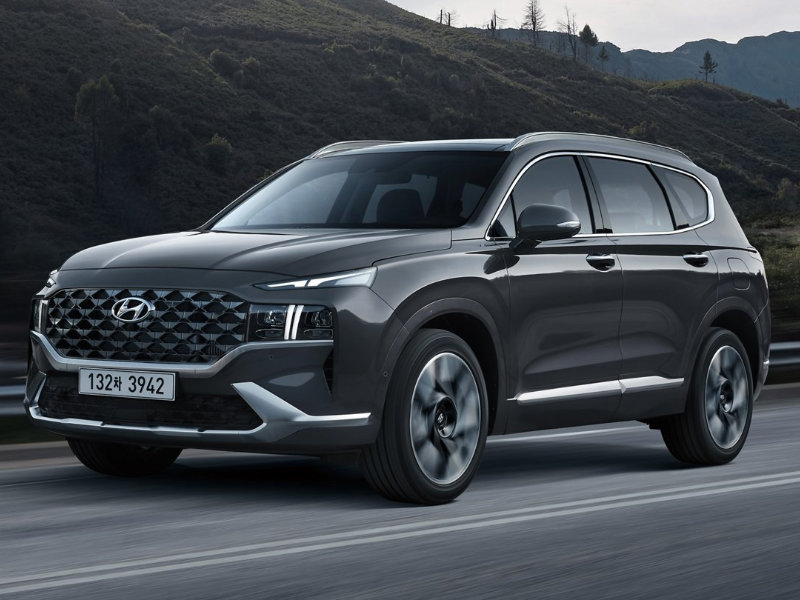 Exterior – 2021 Hyundai Santa Fe
Hyundai redecorated the exterior of the Santa Fe to be wider this year, so that plump, wide body look really fits in well with the grille this year. As a more modern Santa Fe, you'd expect the larger wheels, the greater chrome accents, and the panoramic sunroof that opens your Santa Fe up to some fresh air and bright light. Signature LED lighting and an LED lighting strip on the rear of the vehicle combine to give you all around coverage of your roads during nighttime driving. This lighting design also looks great in the daytime, too, though.
*Not actual vehicle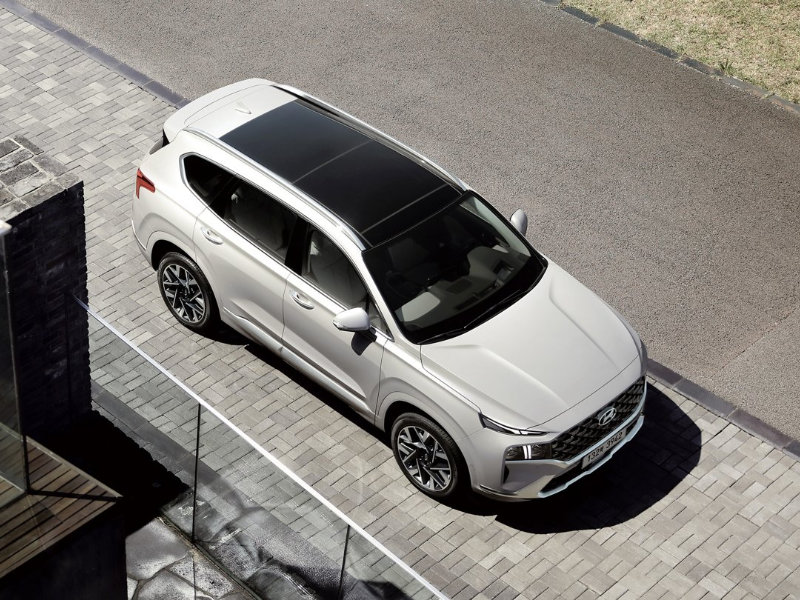 Interior – 2021 Hyundai Santa Fe near Detroit MI
The angled, cradling position of the Hyundai Santa Fe's seating is evident from a first peak at the front seating area. In-between the front seats are cozy, well defined drink holders, a large console center, and rotary dials that let you switch into the kind of drive you want. Hyundai made Dynamic Voice Recognition a big part of its new Santa Fe interior. Your 10.25″ touchscreen infotainment system is positioned so that it's comfortable for both driver and passenger to use. The push-button gearshift is but one of the intriguing design choices that bring lets the Santa Fe do more than just "fit in" with modern SUVs. This is an SUV that's setting a standard. It has controls that let you set your climate and even your terrain mode. Tell your interior what to do, and you can bet the Santa Fe will respond. Gorgeous leather interiors are available in a variety of color schemes from Glassman Hyundai.
*Not actual vehicle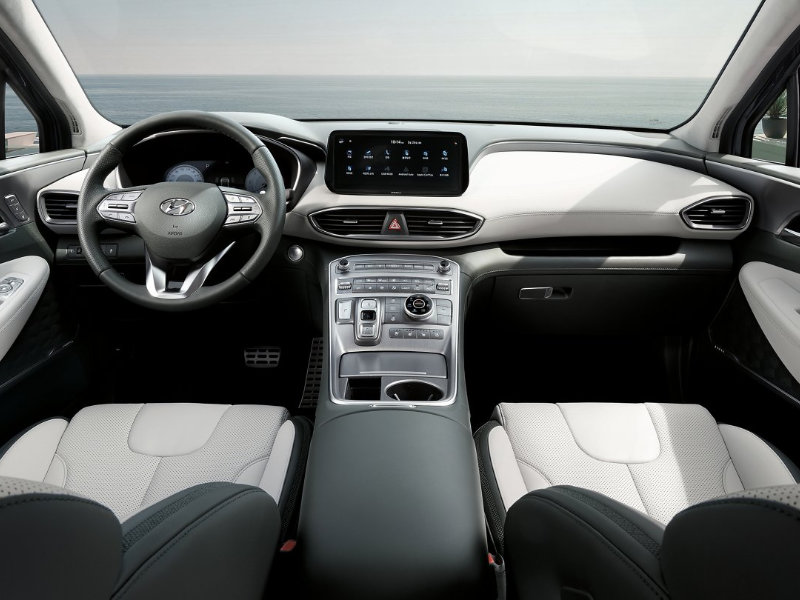 Mechanical – Santa Fe specs near Detroit
The dual-clutch 8-speed automatic transmission is the perfect addition to the Santa Fe's driving profile. You'll find that it's responsive, ready for a tough day's work, and durable as it gives you a better handling experience. Whether you're on a long road trip or stepping out onto a trail, the Santa Fe can handle whatever comes its way. This year's intelligent all-wheel drive is upgraded as well. It gets the ability to switch between 2 or 4-wheel drives depending on which your Santa Fe needs at the moment. This drastically improves fuel efficiency and makes the model one of the better SUVs for fuel economy.
*Not actual vehicle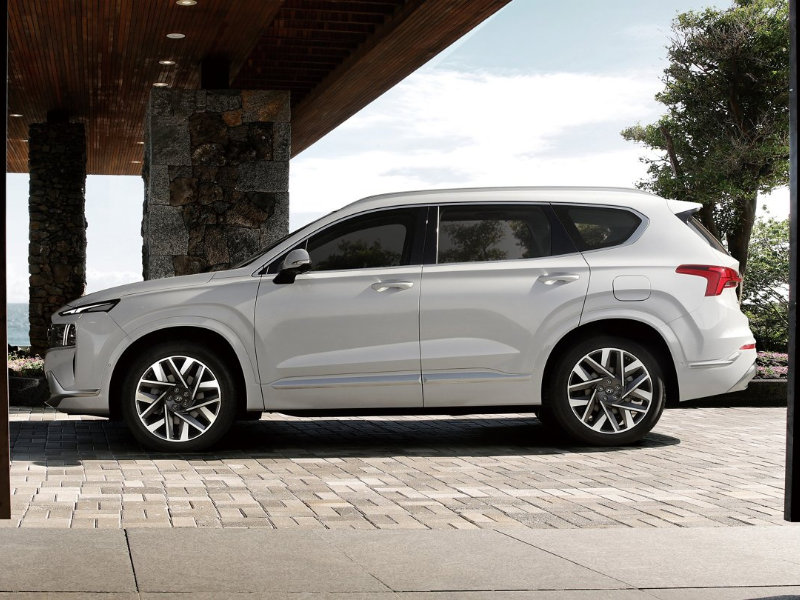 Powertrain – Hyundai Santa Fe specs near Detroit MI
The Santa Fe can be powered up to 277 horsepower via a 2.5L turbocharged 4-cylinder engine. The new dual-clutch transmission is a hearty partner in crime for the Santa Fe and proves to be more than worth the upgrade. There will also be hybrid powertrains on the new Santa Fe, bringing it into an era where people care about their environment as much as their SUV's smooth good looks. The Santa Fe has been serving Detroit Southfield Troy Waterford with remarkably consistent drive quality throughout the years, but this is the first year where we can really say that the Santa Fe jumps ahead of the competition and puts in the extra time to give you something special.
Safety – 2021 Hyundai Santa Fe dealer
The Surround View Monitor is yet another brilliant addition to the Santa Fe's safety profile. You'll find that you can get as many camera views as you want here, switching at will and commanding the sights and sounds you monitor outside of your Hyundai vehicle. It's right on your dash for a perfect view for either driver or passenger. The Blind Spot View Monitor is located right on your digital instrument cluster for a perfect view of what might be creeping up beside you. How many times in the past did people make a lane change because they didn't see something dangerous in their blind spot? Even once is too many when technology like this exists. Simply peak at your position on your digital instrument display and you'll clearly see what's in your blind spot. Thanks to a larger 12.3-inch fully digital instrument cluster on the Santa Fe this year, you'll definitely have extra tools to monitor your performance and safety features. Automatic emergency braking and Adaptive Cruise Control are also much improved this year.
Serving Detroit Southfield Troy Waterford is Glassman's goal this year. Please let us help you find the perfect Hyundai Santa Fe for yourself this year. Write or call us today to get started. We look forward to helping you pick out your favorite Hyundai Santa Fe trim.
We appreciate your interest in our inventory, and apologize we do not have model details displaying on the website at this time. Please fill the form out below and our team will quickly respond, or, please call us at 248-291-9931 for more information.