New Hyundai 2024 Hyundai IONIQ 6 Review near Detroit l Southfield Michigan
2024 Hyundai IONIQ 6 Review


View Inventory
You can step into the future with the all-new 2024 Hyundai IONIQ 6. Building off the success of the well-received IONIQ 5, Hyundai has pushed the boundary even further with design and technology enhancements. Able to take advantage of ultra-fast charging, the Electronic Global Modular Platform speeds up the recharge process like never before. Coming in early 2023, the 2024 Hyundai IONIQ 6 features a sports coup look with ultra-modern accents and 700 plus LED pixel lights.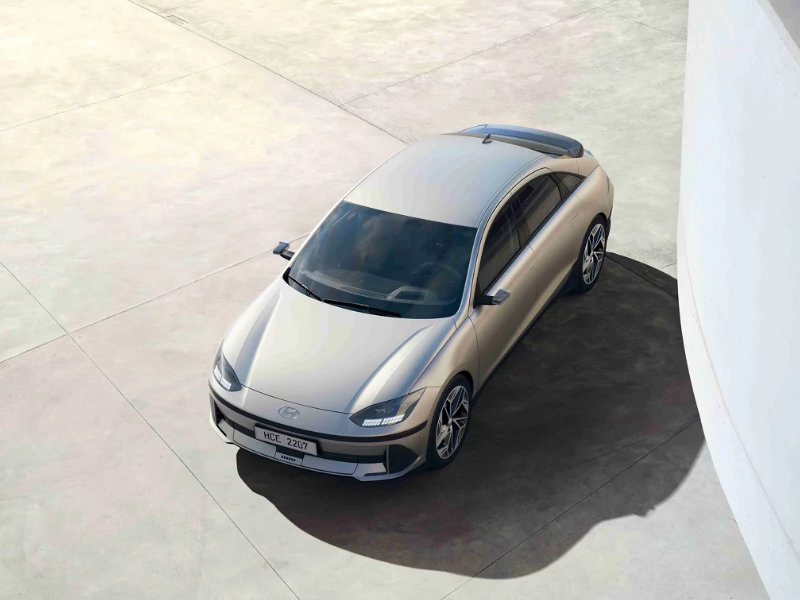 Exterior – Hyundai Dealer serving Southfield MI
The look of the new IONIQ 6 is revolutionary, ultra-modern, and eye-catching. The overall sports coup design adds unique elements such as head-turning wheels, aerodynamic shape, and a rear spoiler for added effect. With the new model, Hyundai opted for a more rounded esthetic rather than the sharper lines found on the IONIQ 5. One of the striking features of this new electric coup is the lack of any grille along the front facia. Hyundai is making innovative concepts a reality and pushing the envelope in terms of future automobile design.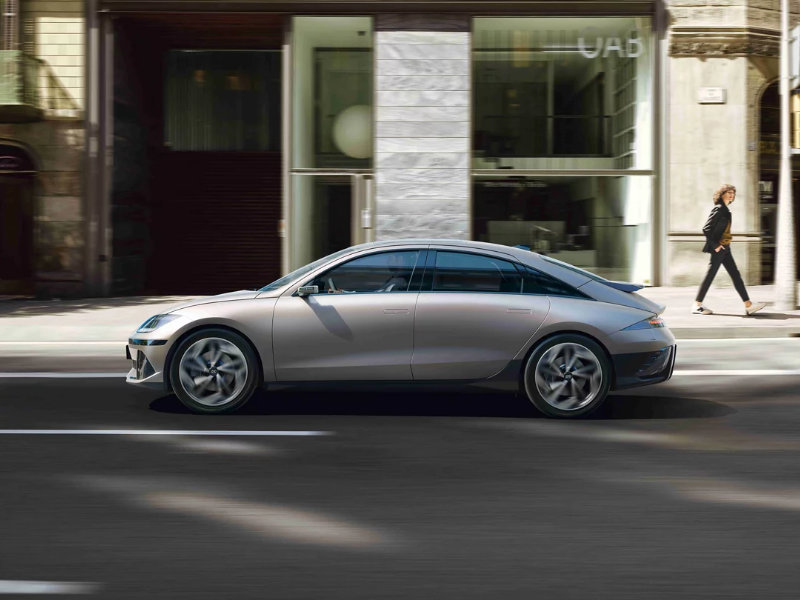 Inside the IONIQ 6, you'll find a minimalistic and clean design flowing with artistic detail throughout the cabin. The ergonomic seating, premium materials, and cutting-edge technology make for the ideal travel environment. Behind the wheel, take notice of the two massive media displays: the driver instrument cluster and media touchscreen hub. These oversized displays offer enhanced accessibility, an intuitive interface, and access to a host of essential information. Connect your smartphone to the media touchscreen and gain access to navigation, streaming entertainment, and much more.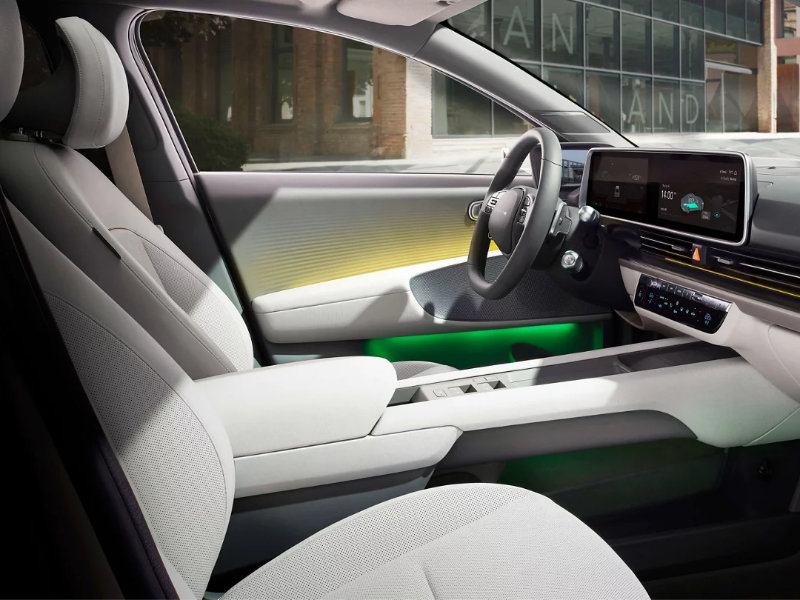 Hyundai IONIQ 6 Mechanical specs
The IONIQ 6 will likely offer a few performance options, including rear-wheel and all-wheel drive. Hyundai's dual-motor all-wheel drive utilizes a 77.4-kilowatt-hour battery that generates an impressive 320 horsepower. Equally remarkable is the rear-wheel drive configuration that manages to produce a healthy 225 horsepower for responsive performance right off the line. All the power in the world isn't good enough if the overall range is low. Fortunately, the 2024 Hyundai IONIQ 6 can reach up to 300 miles on a single charge and possibly beyond.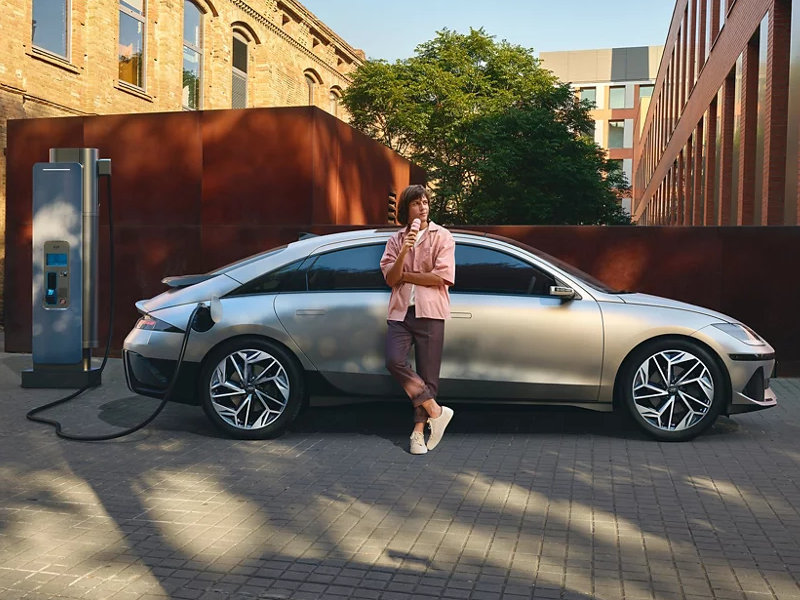 Powertrain – Hyundai Dealership in Southfield MI
One of the advantages of electric motors is the immense amount of torque they are able to produce instantly. With the all-wheel drive dual-motor configuration, you can expect 0-60 times under five seconds and a top speed of around 115 miles per hour. With all four wheels working to propel the vehicle, you'll achieve enhanced traction, handling, and overall stability with a greater wheel-to-road ratio. If you've never driven an electric car, you're in for a shock when you realize most of them only have one gear. With only one gear, the ride is incredibly smooth, unlike anything you've felt before.
Safety – 2024 Hyundai IONIQ 6 dealer
Hyundai's SmartSense technology is built into the IONIQ 6 and creates peace of mind when traveling day-to-day. Systems like Automatic Emergency Braking, Lane-Keeping, And Smart Cruise Control help prevent incidents and make driving more convenient. The head-up display features a transparent screen that shows the driver essential information along the lower windshield. With a head-up display, the driver isn't required to look away from the road to see things like navigation, speed, range, and more. One of the innovative additions to IONIQ 6 is the learning technology that analyzes your driving habits and customizes the vehicle to your particular style.
While some automakers have begun to develop electric vehicles, Hyundai has been at the forefront with the IONIQ series. With head-turning looks, futuristic tech, and an exceedingly comfortable interior, the IONIQ 6 already has people talking. This vehicle is a pleasure to travel in with ultra-modern and minimalistic clean lines. Don't forget the outstanding performance power that includes up to 320 horsepower with a 300 miles range. Read the 2024 Hyundai IONIQ 6 Review and stop by Glassman Hyundai serving Detroit Southfield Waterford Livonia. Search for 2024 Hyundai IONIQ 6 Review and contact Glassman Hyundai serving Detroit Southfield Waterford Livonia for more information.
We appreciate your interest in our inventory, and apologize we do not have model details displaying on the website at this time. Please fill the form out below and our team will quickly respond, or, please call us at 248-291-9931 for more information.