New Hyundai 2022 Hyundai Santa Fe Plug-in Hybrid near Detroit MI near Detroit l Southfield Michigan
2022 Hyundai Santa Fe Plug-in Hybrid near Detroit MI
*2021 Model Shown


View Inventory
It's a new era at Hyundai this year. They've finally crafted the first Plug-in hybrid model for the new Santa Fe. The results are nothing shy of stunning. Your 2022 Hyundai Santa Fe Plug-in hybrid near Detroit comes with a decadent interior, an impressive powertrain full of new technology, and a Hyundai spirit that will make everyone in Detroit sing its praises. Glassman Hyundai is serving Detroit Troy Southfield Michigan with a close-up look at the new 2022 Hyundai Santa Fe plug-in hybrid, a first of its kind. The Santa Fe will always be Hyundai's first adventure into plug-in hybrid territory. How does it stand up against the competition?
*2021 Model Shown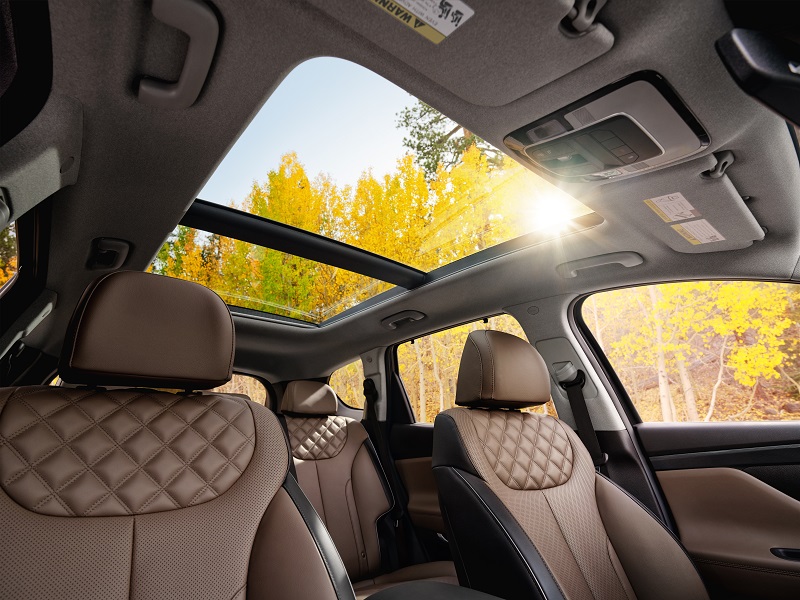 Exterior – Hyundai Dealer serving Detroit MI
The 2022 Hyundai Santa Fe Plug-in hybrid is built in the same great tradition as the "regular" Santa Fe, but it has a few advantages, such as the HTRAC all-wheel drive it comes standard with. This is a model that can go uphill and off-road with the best of them and still maintain a steady composure. The additional equipment really makes an impression, both for driving and in looks. The model's 19-inch wheels are fitted larger for a brand new take on life. Sharp door indentations give the model a beautiful look when it's sitting out in the wild. If you were out to enjoy nature, you would definitely sneak a few peaks at the 2022 Hyundai Santa Fe Plug-in hybrid near Detroit.
*2021 Model Shown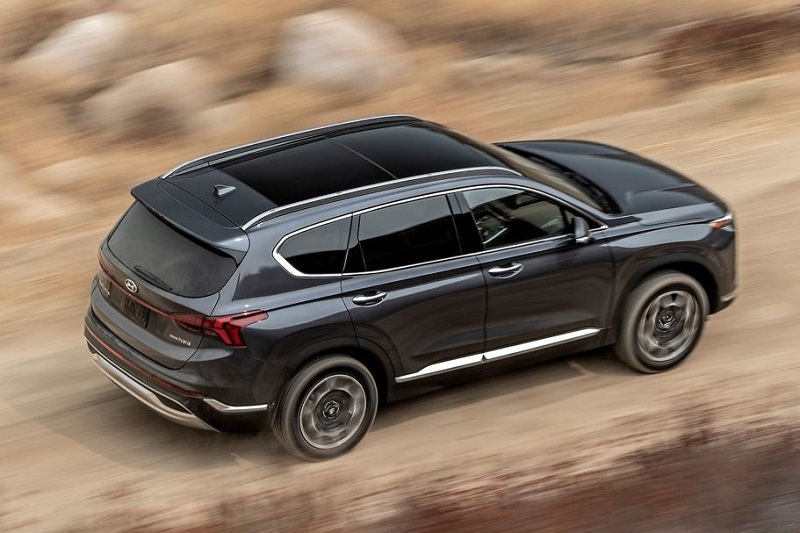 The 2022 Hyundai Santa Fe Plug-in Hybrid near Detroit begins with an absolutely stunning interior. Two-tone options, offset by black dash and door trim, provide a deep, rich look into this ambitious new Santa Fe. Touch-controls and dials are on your large center console, as are cupholders and hidden storage compartments. The on-dash touchscreen is handily positioned so that it's focused on the driver's side. This is incredibly important for safety. The driver needs to maintain good contact with the touchscreen at all times to keep track of directions, texts, and music, all without having to divert attention from the road. Each feature on the interior is serving Detroit Troy Southfield Michigan with a number of gorgeous features. Even the windshield is sculpted and angled in a way that makes the outdoors look more spectacular from all views.
*2021 Model Shown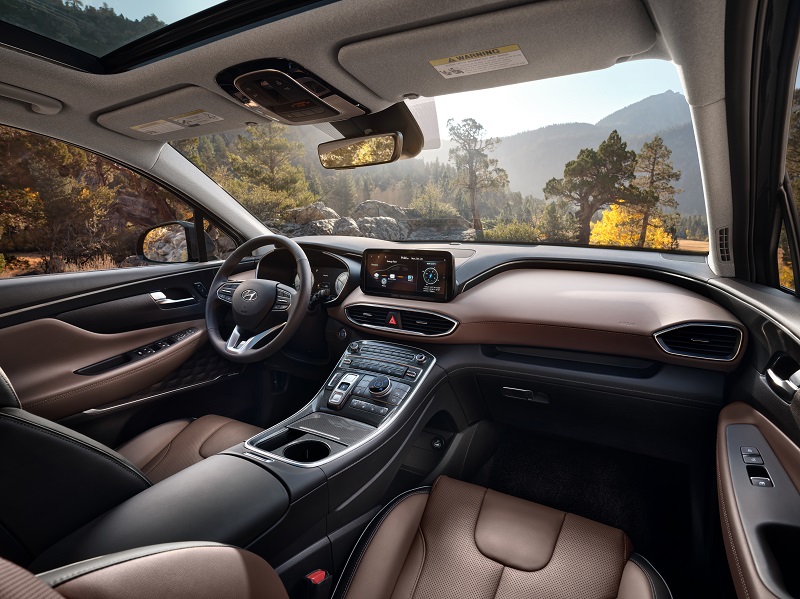 Hyundai Santa Fe Plug-in Hybrid Mechanical specs
Glassman Hyundai knows that families want confidence from their SUVs. It's the mechanical configuration of your 2022 Santa Fe Plug-in that will give you that boost in confidence, starting off with the new HTRAC all-wheel drive. With constant monitoring and adjustment of your wheels, you always get the traction you need in this model. The new transmission is a 6-speed automatic, so you never have to worry about manually shifting. The transitions are smooth as butter.
*2021 Model Shown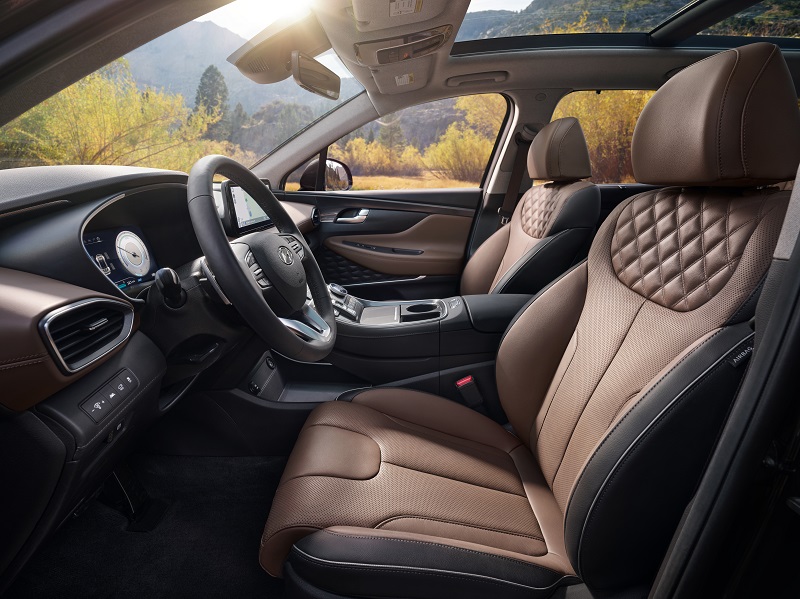 Powertrain – Hyundai Dealership near Detroit MI
The final horsepower rating of the Santa Fe Plug-in is 261 horsepower combined. This comes from a turbocharged 1.6-liter 4-cylinder engine and 66.9 kW electric motor with 13.8-kWh lithium-ion polymer battery. The result is stunning. Your output is even more powerful when joined with HTRAC all-wheel drive.
Safety – 2022 Hyundai Santa Fe Plug-in Hybrid dealer
The Santa Fe Plug-in wouldn't be a Hyundai unless it came with an award-winning range of driver-assist features. They start you off right with Driver Attention Warning, a new system that monitors your driving inputs and then immediately notifies you if your style hints at drowsiness or lack of attention. Your instrument cluster has a place where you get an alert for this type of driving. It's yet another heads-up feature to get you back on a safer path. A new Forward Collision-Avoidance Assist with Pedestrian Detection feature is geared to automatically brake if you're about to hit an obstacle or person to the front of your path. If you live in a city that's heavy with pedestrians, then you're going to be thankful for this feature many times throughout the years. Your parking is easier, too, thanks to Remote Smart Parking Assist. Your vehicle can actually drive itself into tight parking spaces with just a press of your key. In 2022, you have a plug-in hybrid that you can control almost like a remote control car. That's not child's play. That's brilliant.
Let Glassman Hyundai be generous on your next Santa Fe model. For those who want to make the switch to plug-in hybrid this year, the Santa Fe is the ideal model for all. Contact us online or by phone to schedule a meeting with your favorite trim when it arrives. We'll be right here to give you a great deal.