New Hyundai 2022 Hyundai Kona N near Detroit MI near Detroit l Southfield Michigan
2022 Hyundai Kona N near Detroit MI


View Inventory
Hyundai's commitment to hybrid and electric models is evident. Their 2022 Hyundai Kona N is a labor of love serving Detroit Troy Southfield Michigan with a brand new outlook on life and the world we live in. You'll be able to hop into a 2022 Hyundai Kona N near Detroit and experience a thrilling powertrain and luxurious interior, but most of all, you'll enjoy knowing that you're making a difference in this world of ours. Glassman Hyundai is happy to introduce you to the 2022 Hyundai Kona N here in this short review. Go inside and outside the Kona N and discover all the things it brings into your life. The N Line is perhaps the most ambitious of all Kona trims, as it captures the luxury and futuristic nature of the vehicle while still keeping a firm grasp on economics.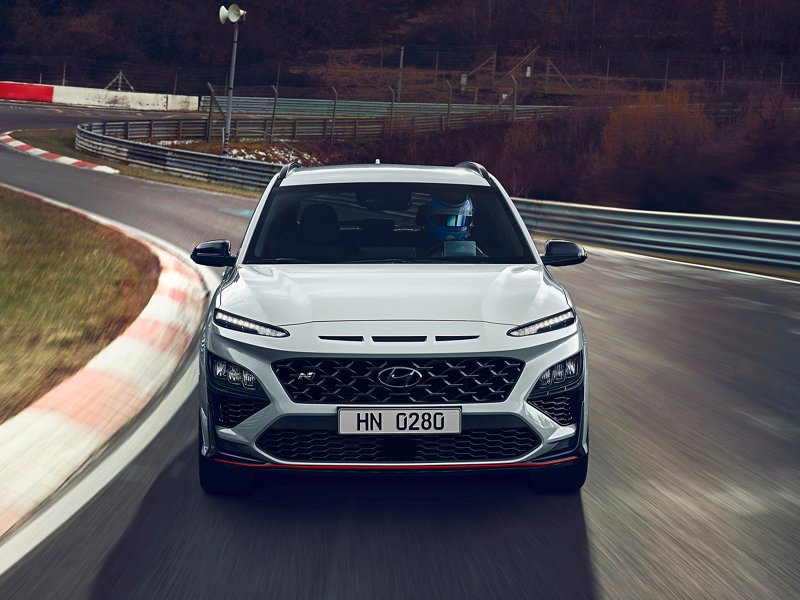 Exterior – Hyundai Dealer serving Detroit MI
The limited number of details about the 2022 Hyundai Kona N are exciting indeed. This is the racing-oriented Kona, so expect colors that fit that mold. Pulse Red, Ultra Black, and Lunar White are all on the menu for your next Kona N Line. The mode's hood gets a long and lean look for a very sophisticated and flowing appearance. Hood vents and a strong, blacked out grille are joined by the iconic Hyundai logo. The model will have a winter weather package and mudguards as options, as well as large wheel choices that sport up your Kona N the way it should be. Look for multiple-spoked wheels and plenty of sporty wheels to choose from. The upscale side of the exterior will be features like a sunroof and LED headlamps and fog lamps. The headlights have been redesigned this year to be more fashionable and modern.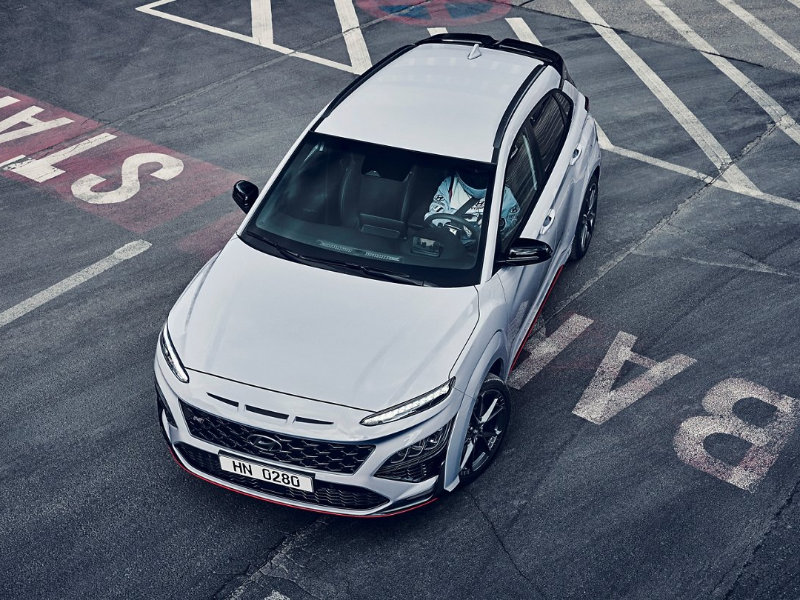 The new 2022 Hyundai Kona N near Detroit is an exercise in practicality and futurism. All of your auxiliary controls and touch controls are both incorporated perfectly to give you a natural feeling as you interact with your cabin. The power driver's seat allows you to choose from your own customized positions and then has a deep, secure feeling to its fabric. The N line is currently in preproduction, so we don't have a long line of interior features in just yet, but we can tell you that so far the interior is set to be black. There are red accents all throughout the cabin to lend it a strong and speedy character. The Hyundai logo on the steering wheel is surrounded with steering-wheel buttons and controls. Set your cruising speed or simply put a song on the radio. The on-dash touchscreen infotainment system looks to be between 8.4-inches and 10.3-inches, a trend that goes along with Hyundai's most recent models. Check back often for new details on the N Line serving Detroit Troy Southfield Michigan with still more great features to be announced.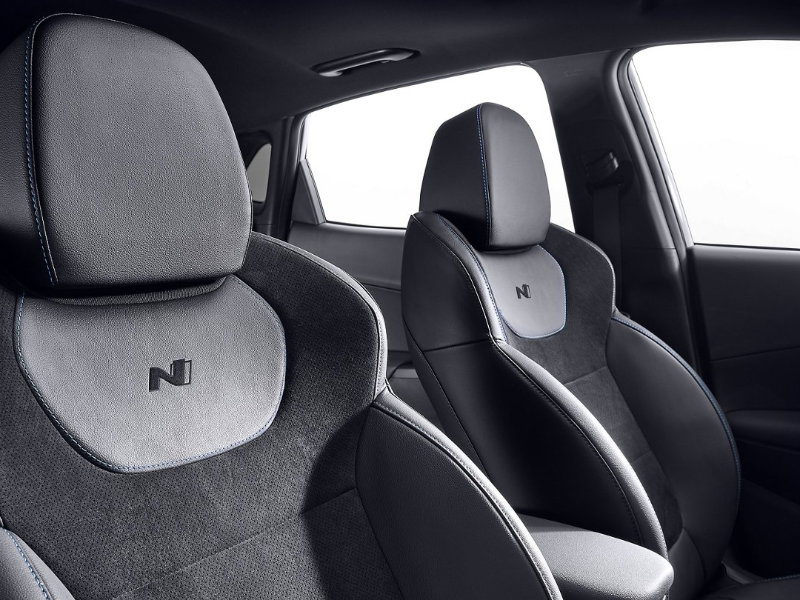 Hyundai Kona N Mechanical specs
The re-engineered 6-speed automatic transmission follows its predecessor's blueprint carefully, but it's quieter and smoother than past models. This is the ideal economical choice for the Kona, a model that has a lot of advancements and needs to chip away at price in any place it can. The new upscale interior is something that will make the 6-speed automatic a welcome sight and an affordable one as well.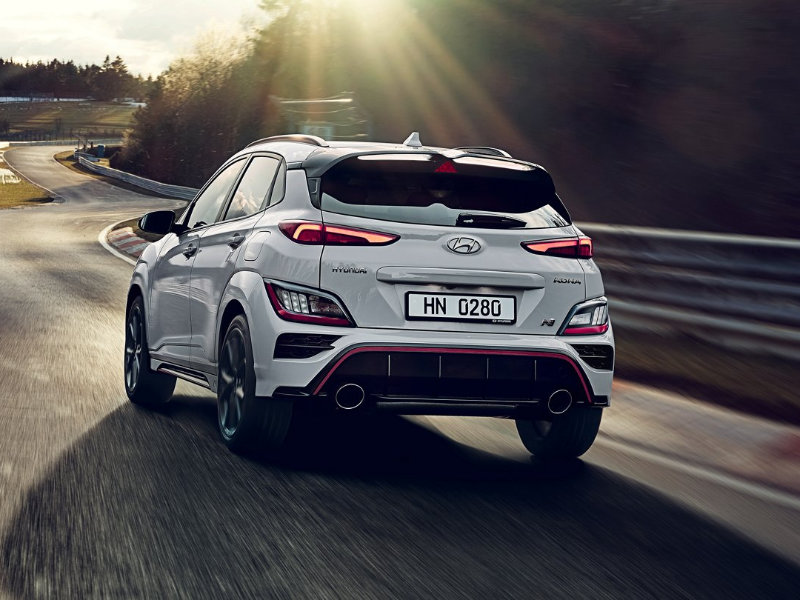 Powertrain – Hyundai Dealership near Detroit MI
The powertrain on the new Kona N is a 1.6L turbocharged GDI 4-cylinder with or without AWD. Getting AWD is very affordable and is recommended to anyone who lives in an area that has questionable weather. A 2.0L engine is also available. Horsepower on the new Kona will range from 195 horsepower to 147 horsepower, both nice ranges for a model of this size.
Safety – 2022 Hyundai Kona N dealer
The intelligence of a modern safety system is often a make or break moment for any model. Hyundai models have no trouble proving themselves in this area. The 2022 Kona grabs standard features like automatic emergency braking with pedestrian detection, lane departure warning, and major parking assist features. When you're backing up in the Kona, your model will let you know if you get too close to objects behind the vehicle. In some instances, the Kona can even brake or gently avert steering away from dangerous objects. Your family can rest easy while driving in a Kona!
If you want to buy the 2022 Kona this year and want to get a great deal on it, Glassman Hyundai is the place to call. You can also conveniently reach us online by using our live chat or email feature. We look forward to putting you in one of this year's most exciting and affordable Hyundai models.