New Hyundai 2021 Hyundai Sonata vs 2020 Hyundai Sonata near Detroit near Detroit l Southfield Michigan
2021 Hyundai Sonata vs 2020 Hyundai Sonata near Detroit
View Inventory


The Sonata used to be a practical-minded sedan that stuck to a well-rehearsed playbook. You could always call it nice, but it didn't make too much of an effort to catch out of class buyers. Flash forward to 2021, and the 2021 Sonata is one of the most hotly anticipated sedans of the year. People line up to see what Hyundai's newest design language is going to communicate with them in the new year. As you'll see by looking at pictures of the new 2021 Sonata, this year's model is talking a whole lot of chrome and more muscular language in a gentlemanly way that speaks to every type of buyer. Whether you're a young go-getter on the road for work a lot or a family person who wants to feel special during all your vacations, the Sonata has a lot to say to you.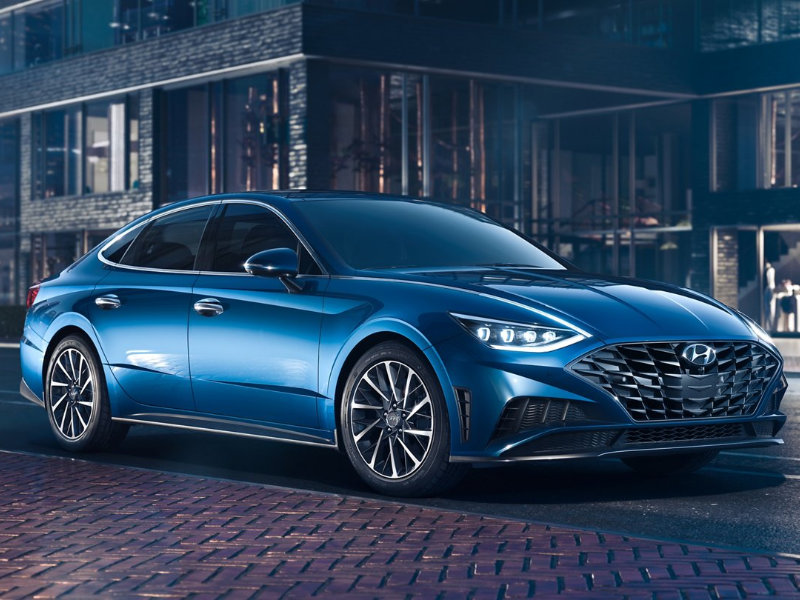 Exterior – Hyundai Dealer serving Detroit MI
The 2021 Hyundai Sonata vs 2020 Hyundai Sonata near Detroit is a continuation of Hyundai's newest take on their "sensual sportiness" design lingo. It rewords a bit this year, with a shorter rear portion of the vehicle rising up to meet a sportier back window that's laminated and acoustic to ensure a very quiet cabin. A more voluptuously stylized grille and front fascia hold LED headlamps that are made in the Sonata's new language. This vehicle isn't all talk, though. The 19-inch alloy wheels are an action movie all unto themselves. They come on the new SEL Plus trim. The Limited will get these wheels and plenty of other options for you and your family to choose from. In short, the newest Sonata surpasses the grandness of the previous version by a long shot.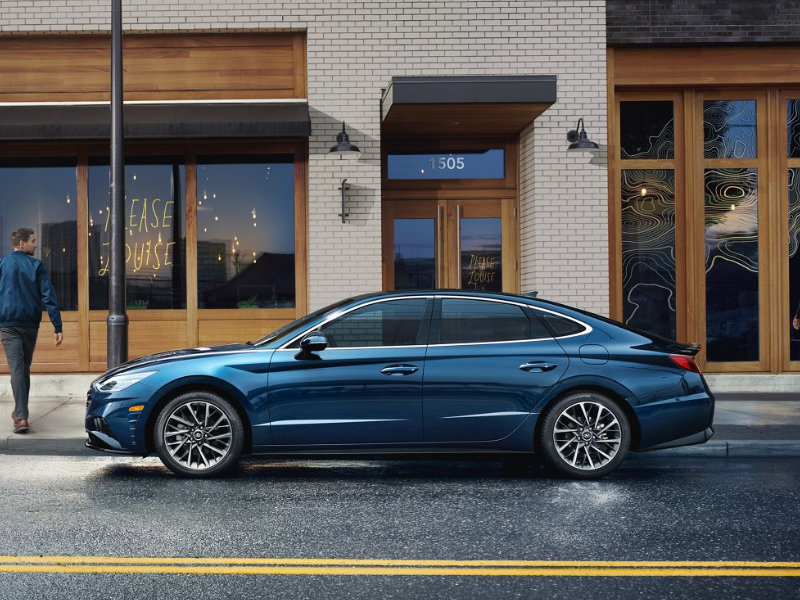 The intensity of the exterior melts into a ritzy show on the interior of the new 2021 Hyundai Sonata vs 2020 Hyundai Sonata near Detroit. Glassman Hyundai continues to give grand tours of the latest Sonata, and it never fails to showcase the brand's more glamorous reputation in the modern era. The soft dash seems to go on for miles, giving you new delights at every turn. Heated front seats keep you warm while you get to know your 10.25-inch touchscreen infotainment system (standard on the Limited trim) and 12.3″ digital gauge cluster. It's fully digital this year for a premium, revolutionary new look and scale that will have the whole family to be proud to ride in this model. Wireless device charging lets you ditch the wires and simply enjoy the view and space.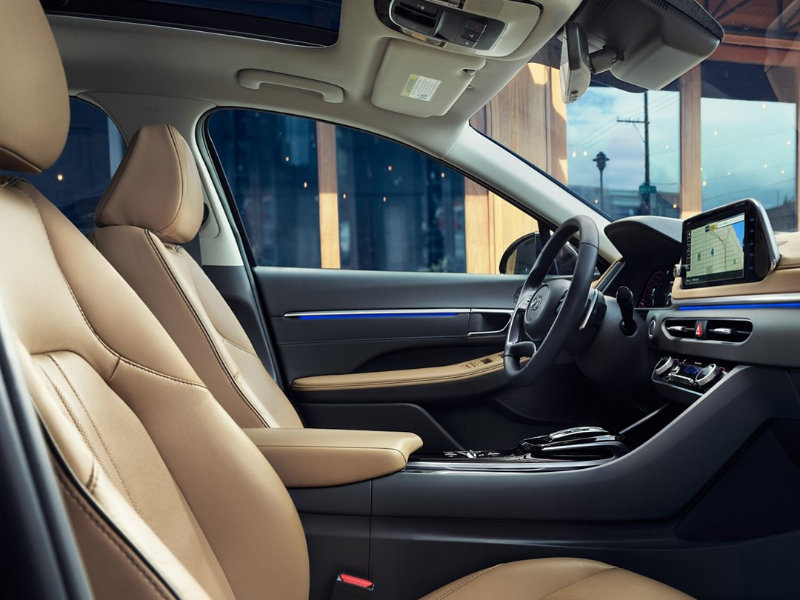 Hyundai Sonata Mechanical specs
The 2021 Sonata enters Glassman Hyundai this year with a 1.6L turbocharged GDI 4-cylinder engine rated at 180 horsepower. Please make sure you really focus in on the "turbocharged" portion of that. When you've got that turbocharger at work, 180 horsepower feels many times higher than it looks on paper. When you press the gas on a new Sonata, you're going to feel every bit of that power instantly transmitted to your wheels. You never feel like you have to struggle to get up a hill or through rough weather when you're in a Sonata. The new 8-speed automatic transmission is tweaked just a bit from 2020 so that you get a much better shifting experience. The ride is silky smooth and a real treat to look forward to every day.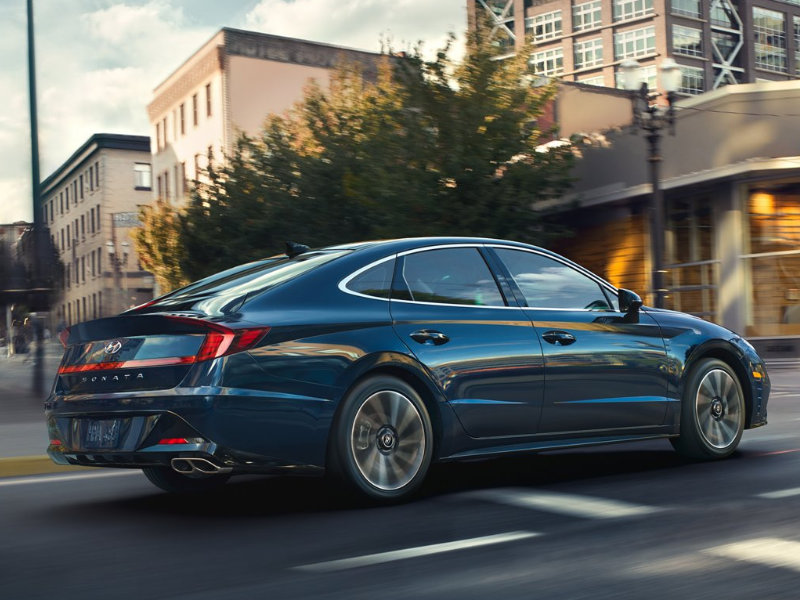 Safety – 2021 Hyundai Sonata dealer
Smart Sense continues its trek toward industry supremacy by bumping up many of your formerly optional features to full standard. You get a range of camera angles on your large touchscreen infotainment system this year, more sensors around the vehicle, and a great appreciation for split second help from your Sonata. The standard Driver Attention Warning and Lane Follow Assist on the SE is a gift from Hyundai that never stops giving. Likewise, they've giving you Collision-Avoidance Assist with Pedestrian Detection on every trim (a rare gift from any automaker these days). Blind-Spot Monitoring enters the game on the SEL trim and higher. There's also a new Blind-Spot View Monitor on the Limited that gives you a birds-eye view of your vehicle's blind spot at all times. You'll be able to see it clearly from your new digital instrument cluster. The already impeccable reputation of the Sonata was cemented in the 2020 model, but it seems like they somehow managed to improve on even that in 2021.
The 2021 Sonata is nicer than the 2020 model, and that's just as it should be. If you'd like to know more about this model or schedule a test drive, please contact Glassman Hyundai today.
We appreciate your interest in our inventory, and apologize we do not have model details displaying on the website at this time. Please fill the form out below and our team will quickly respond, or, please call us at 248-291-9931 for more information.