New Hyundai 2021 Hyundai Santa Fe vs 2020 Hyundai Santa Fe near Detroit near Detroit l Southfield Michigan
2021 Hyundai Santa Fe vs 2020 Hyundai Santa Fe near Detroit
View Inventory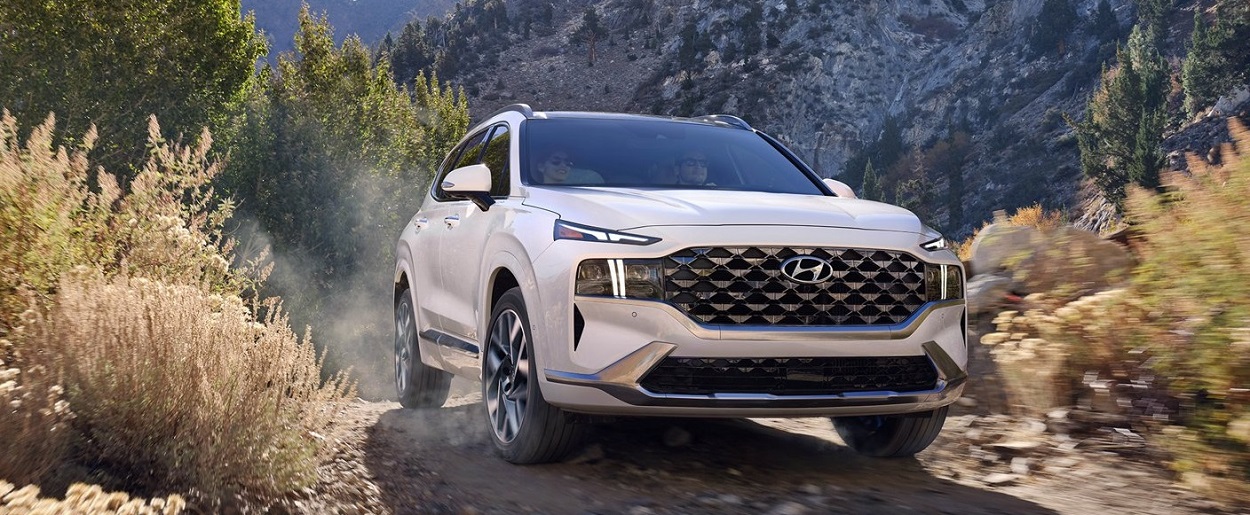 How does an automaker like Hyundai take one of its most expressive, memorable designs (the 2020 Santa Fe) and transform it into something that surpasses that already high bar? Glassman Hyundai reviewed the 2021 and 2020 model against each other to highlight just how far Hyundai went to better one of its staple SUV crossovers. The Santa Fe's curvaceous, widely loved look sticks to some of its most basic roots, but it convincingly shatters other high bars. Our 2021 Hyundai Santa Fe vs 2020 Hyundai Santa Fe near Detroit review takes you up close to the 2021 Santa Fe and all the improvements.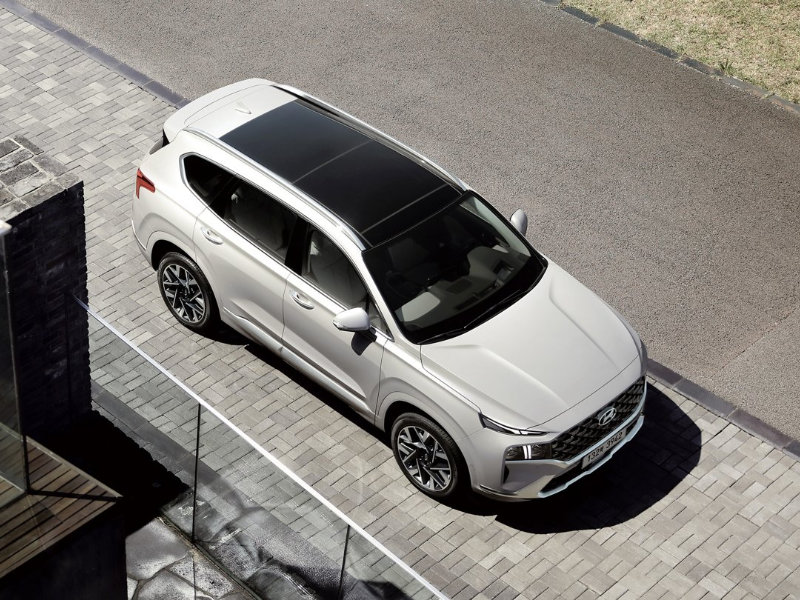 Exterior – Hyundai Dealer serving Detroit MI
The physical shape of the Santa Fe is far more stately in 2021. The already curvy Santa Fe stands high and proud for a mid-size model, but it gets much wider in 2021, too. A quick look at its sweeping new fascia is enough to remind one of luxury SUVs. The diamond-like triangle pattern of the front grille is emblazoned with the Hyundai Logo and a sense of comradery with the new "T-shaped" LED headlamps. Only a few SUVs have taken up this type of headlamp design, and it makes the Santa Fe look far more recognizable from its peers. The split design is simply stunning. Large body-color accents rush into the front fascia area that Hyundai decided to completely redesign in 2021. The results have thus far been a major talking point about the new Santa Fe. The model makes an expressive statement from its rear bumper as well, being adorned just above by an LED lighting strip that booms out in racing red. A smaller hands-free smart liftgate is highly enjoyable to use this year, responding to your proximity with a welcoming gesture of "open and load."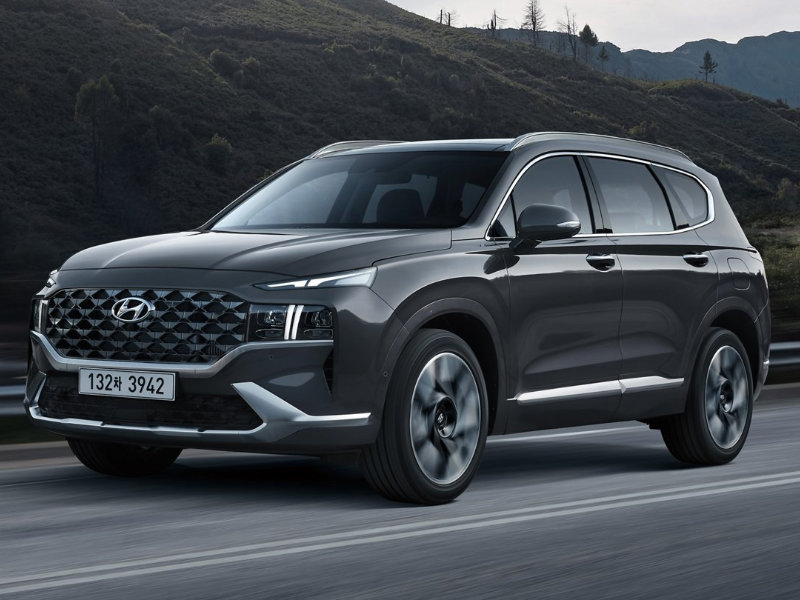 The new Calligraphy trim is the biggest reason to skip all 2020 Hyundai models in favor of the new 2021 debut. It's the epitome of affordable luxury and a truly cheerful spot in this year's otherwise grim mid-size lineup from other automakers. While other automakers grow complacent, Hyundai just released its most upscale trim yet. The Calligraphy ushers in a new wave of uptown charisma for the Santa Fe. You'll love the new 8-inch touchscreen infotainment system (with the option for a larger 10.25″ center stack that comes on the Calligraphy), the 12.3″ digital instrument cluster, and an acoustic glass design that ends up making your cabin a place where you can really get away from the harshness of life. The thicker seating material shines out as well. Your family is cradled by the Nappa leather trims on the Calligraphy, and they'll have a lot to keep them happy. Wireless device charging is standard on this highest of all trims.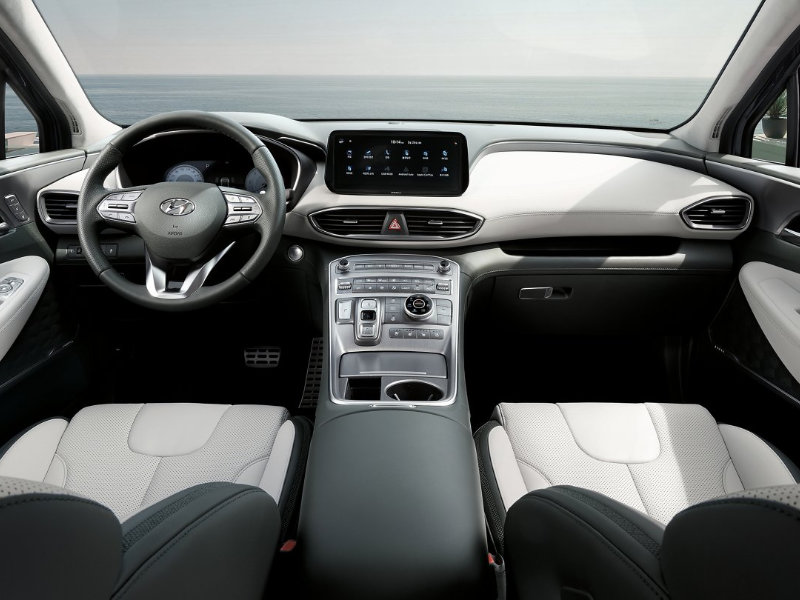 Hyundai Santa Fe Mechanical specs
Mid-size models are great because they're versatile, and they don't come any more flexible than the Santa Fe. It always has room in its schedule for a good towing adventure. Your eight-speed automatic transmission is back again this year, pairing up for a new 191 horsepower base model engine. You don't have to settle for that introductory power spec, though. There are two more engines to choose from: a 2.5L turbocharged rated at 277 horsepower and 311 lb-ft of torque or a hybrid powertrain that gives you a combined horsepower of 225. Will you go for economy, pure performance, or efficiency? How nice is it that the Santa Fe gives you the choice between all three.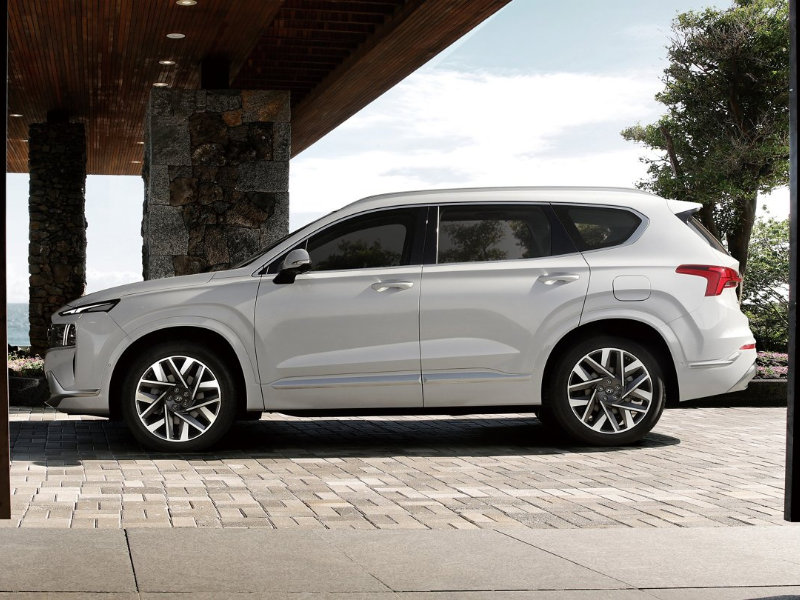 Safety – 2021 Hyundai Santa Fe dealer
Smart Sense has always been one of the most advanced safety platforms in the auto industry, but Hyundai dismays many competitors every year by making it even better. The 2021 Santa Fe outpaces the 2020 model by serving up blind-spot collision avoidance, lane keeping assist, and driver attention warning even earlier in the trim lineup this year. When you family steps into a Santa Fe, they can be confident that there is intelligence protecting them on all signs. The sensors in the 2021 model are especially responsive and ready to spring into action. The alerts that you get when you veer out of your own lane, get near an object by parking, or come dangerously close to a front collision are all still intact, but they're much quicker on the job this year. Likewise, the amount of money you pay for active features like collision avoidance is going to lower in the 2021 season. As they say, it's always the season to be safe. And Hyundai makes it easy to do in their wonderful 2021 Santa Fe.
If you've learned something about our 2021 Hyundai Santa Fe vs 2020 Hyundai Santa Fe near Detroit preview and have questions to ask, just let Glassman Hyundai know. Our friendly sales team lives to help customers just like you score the greatest deals around on the new Santa Fe.
We appreciate your interest in our inventory, and apologize we do not have model details displaying on the website at this time. Please fill the form out below and our team will quickly respond, or, please call us at 248-291-9931 for more information.