New Hyundai 2020 Hyundai Palisade vs 2020 Nissan Pathfinder near Detroit MI near Detroit l Southfield Michigan
2020 Hyundai Palisade vs 2020 Nissan Pathfinder near Detroit MI
View Inventory


Vehicle Overview
The 2020 model year finds two three-row midsize crossover SUVs—similar in their high level of off-road orientation—at different points in their existence. This year, Hyundai introduced to the world the Palisade, which immediately had an impact with its long list of attributes. By comparison, the Nissan Pathfinder is now almost a decade into its fourth generation of production, with no major changes for this year. Ultimately, the 2020 Hyundai Palisade edges out the 2020 Nissan Pathfinder in several areas. Here are a few of them.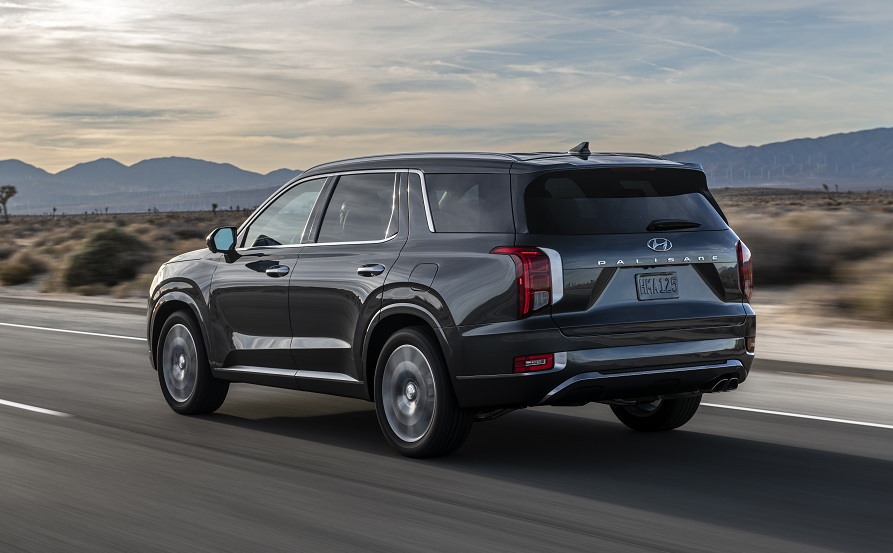 Exterior – 2020 Hyundai Palisade
The brand-new Hyundai Palisade is stunning to look at. It has a sleek yet boxy profile—complete with a trapezoidal chrome-finished mesh grille and split headlights—that exudes strength and sturdiness. And that aura is backed by a unibody construction entirely from high strength steel, which means that the body and chassis are joined for ultimate physical stability and integrity. Although the Nissan Pathfinder also uses a unibody design, it has a tamer, less assertive design, which is the result of using the same sheet metal that debuted in 2013. It makes the Pathfinder look outdated, especially when compared with the more modern-looking Palisade.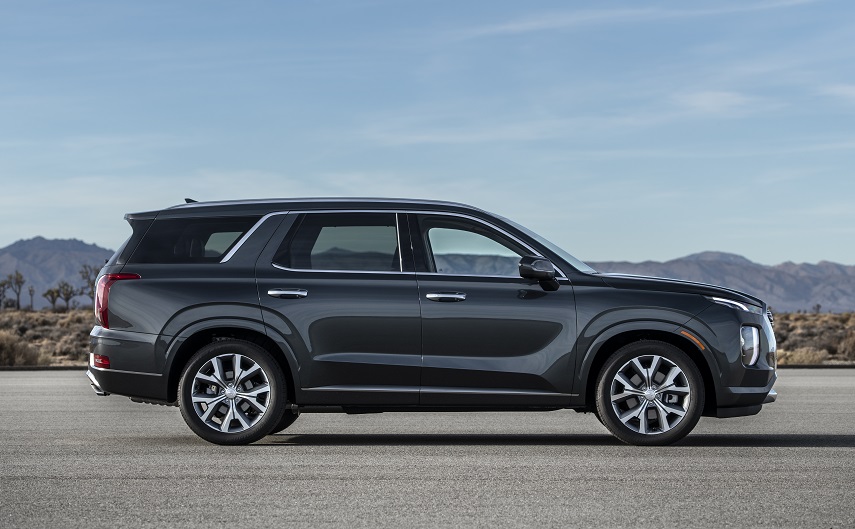 Interior – 2020 Hyundai Palisade near Detroit MI
Although both the 2020 Palisade and the 2020 Pathfinder have three rows of seats, not all three-row vehicles are created equal. On the Pathfinder, the second row can accommodate up to three people while the third row can only handle two and can actually feel too small for taller passengers. With the front reserved for the driver and one passenger, the Pathfinder has a maximum occupancy of seven. That's not the case with the 2020 Palisade. The third-row bench-style seat is spacious enough to accommodate up to three people, just like the second row. As a result, up to eight adults can get into the Palisade without feeling cramped.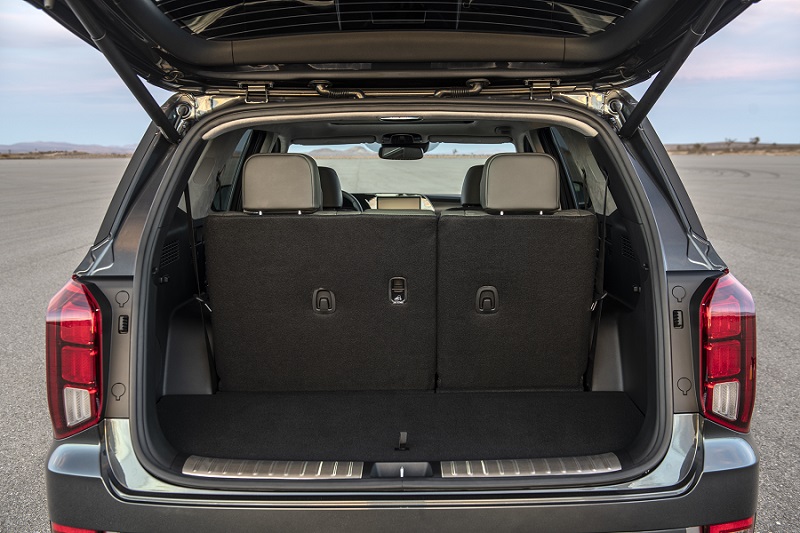 Mechanical – Palisade specs near Detroit
Both the 2020 Hyundai Palisade and the 2020 Nissan Pathfinder are powered by beefy engines designed to provide above-average acceleration ability. On the Palisade, expect a 3.8-liter V6 engine that churns out 291 horsepower and 262 lb-ft of torque. On the Pathfinder, you'd get a smaller, 3.5-liter V6 with 284 horsepower and 259 lb-ft of torque; that's 7 less horsepower and 3 less lb-ft of torque than what you get on the Palisade.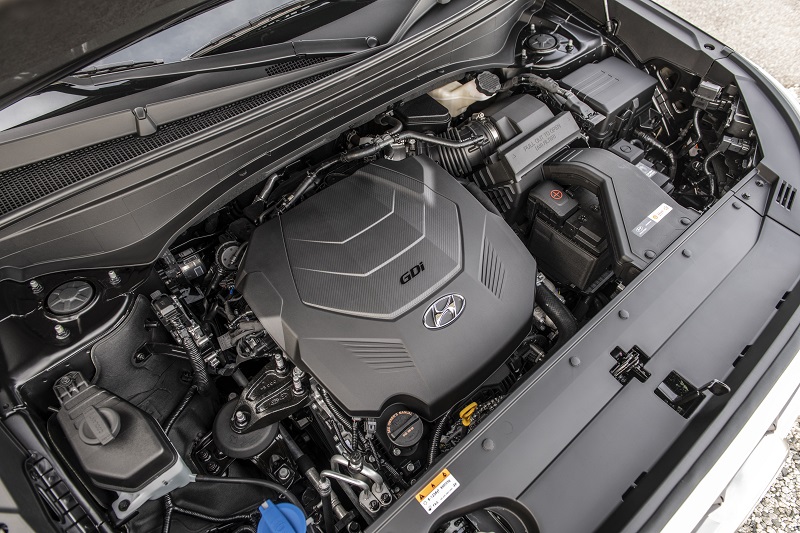 Safety – Hyundai Palisade near Detroit MI
The 2020 Pathfinder is totally outgunned by the 2020 Palisade in the safety department. While both SUVs have dual frontal impact, side impact, and side curtain airbags, Hyundai adds a knee airbag for the driver on the Palisade. Plus, driver assistance on the Pathfinder is limited to automatic emergency braking, while the Palisade is loaded with features such as a blind-spot monitoring system with rear cross-traffic alert and assist, high beam assist, adaptive cruise control, and driver attention warning. Also unique are the Palisade's rear alert and camera systems. While both vehicles have a rear occupant alert system to ensure that no rear-seat passengers—especially kids—are left behind before you lock the doors, the Palisade provides the added benefit of configuring it to send a text to your smartphone if you indeed have someone trapped in the vehicle. In addition, the rearview camera on the Hyundai SUV is accompanied by a front-facing camera so that you can monitor who or what is in front of you (in addition to who or what is behind you).
Reliability – 2020 Hyundai Palisade dealer
The Hyundai Palisade is more likely to be durable or reliable in the long run than the Nissan Pathfinder. J.D. Power and Associates rates each new vehicle's predicted reliability based on evaluating reports during the first 90 days of ownership. On a scale of 1 to 5 Power Circles, the 2020 Palisade gets a rating of 3 1/2. This rating places it among the better choices in its class. The 2020 Pathfinder gets a 2 ½ Power Circle rating, which is comparatively mediocre.
Read "2020 Hyundai Palisade vs 2020 Nissan Pathfinder" and are now more curious about the former, rather than the latter? Call us today at Glassman Hyundai for an appointment. Based in the Detroit area, Glassman Hyundai is known for serving Detroit Southfield Dearborn residents for several years. Check out our inventory online and go through our current specials and stop by for a test drive today. One of our Hyundai sales specialists—known for serving Detroit Southfield Dearborn—will be available to assist you all the way.
We appreciate your interest in our inventory, and apologize we do not have model details displaying on the website at this time. Please fill the form out below and our team will quickly respond, or, please call us at 248-291-9931 for more information.