New Hyundai 2020 Hyundai Elantra vs 2020 Nissan Sentra near Detroit MI near Detroit l Southfield Michigan
2020 Hyundai Elantra vs 2020 Nissan Sentra near Detroit MI
View Inventory


Vehicle Overview
At face value, the 2020 Hyundai Elantra and the 2020 Nissan Sentra are evenly matched. Both are decent four-door compact cars, with enough space to fit in five people and satisfactory lists of standard tech and safety features. Plus, this model year marks major changes for both nameplates: the sixth-gen Elantra is still being updated even a year after a facelift, and this Sentra represents the beginning of the vehicle's eighth production cycle due to the complete redesign. However, upon closer examination, there are major reasons why you should go with a 2020 Hyundai Elantra over the 2020 Nissan Sentra.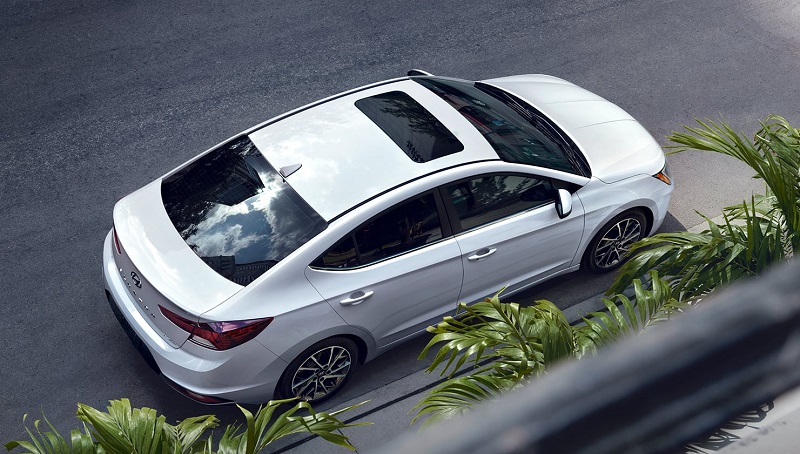 Exterior – 2020 Hyundai Elantra
The Nissan Sentra is only produced as a regular, four-door sedan. That's not the case with the Hyundai Elantra. Granted, the Elantra started off as a four-door sedan as well. Eventually, though, Hyundai spun off its five-door hatchback variant as a standalone offering named the GT. So, if you want something more practical than a sedan, at least the Elantra offers a hatchback choice. You don't have that with the Sentra.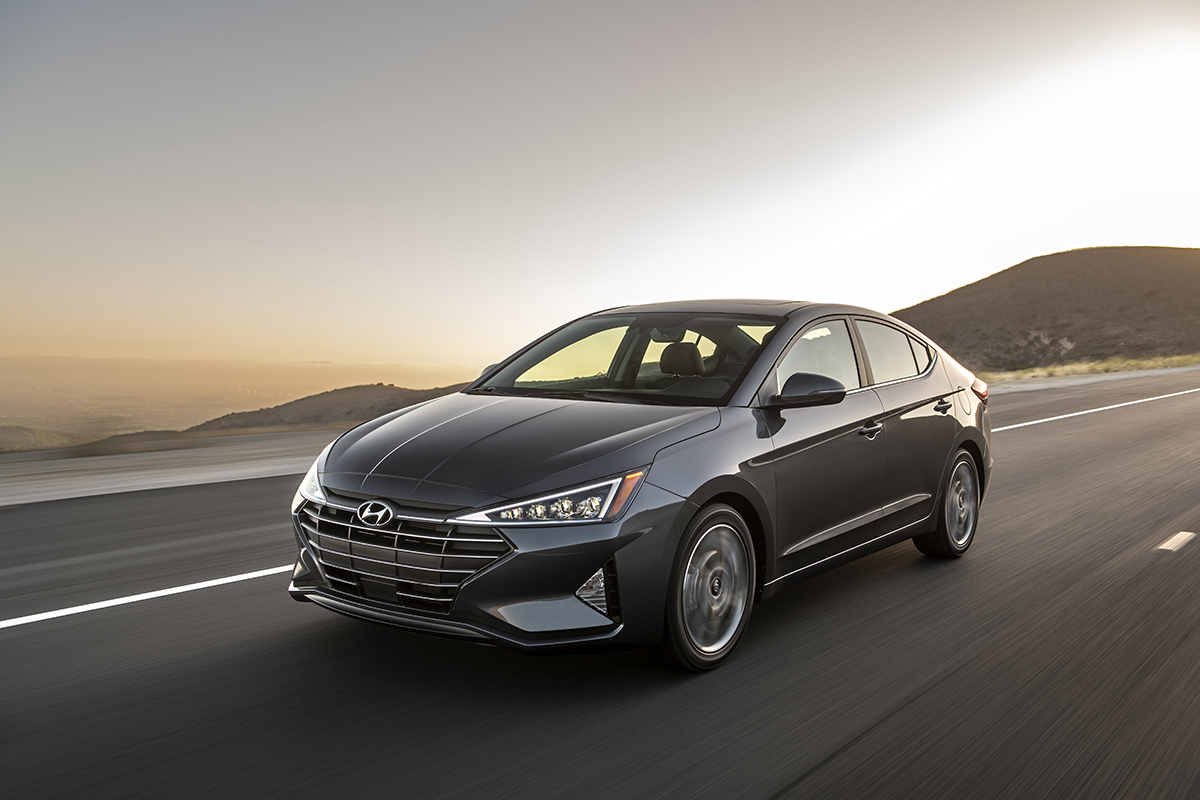 Interior – 2020 Hyundai Elantra near Detroit MI
While the 2020 Sentra provides 14.3 cubic feet of cargo space from its trunk, it's slightly better on the 2020 Elantra, which offers 14.4 cubic feet. As small vehicles, though, lots of cargo space is not to be expected; indeed, both offerings are a bit on the small side. However, at least the Elantra's GT, due to being a hatchback, has more interior volume. Cargo space on the GT—measured from the rear seats to the liftgate—is estimated at 24.9 cubic feet. Even better, you can fold down the rear seats to max out the cargo volume at 55.1 cubic feet.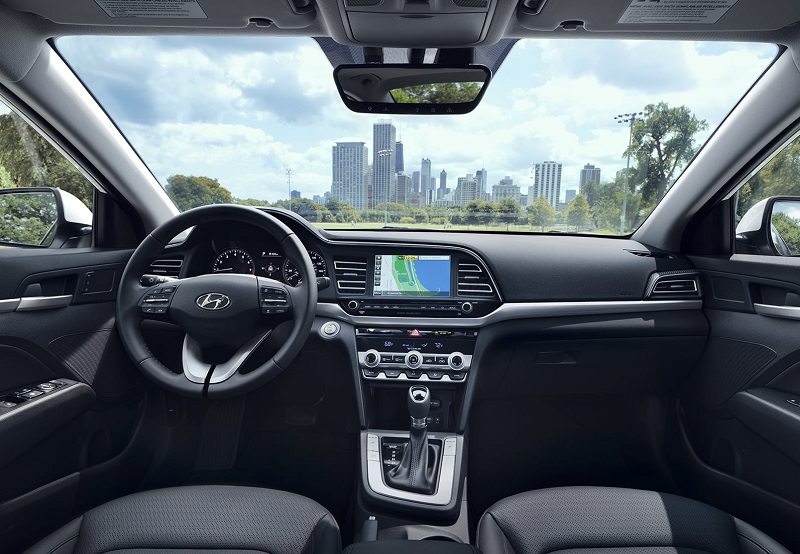 Mechanical – Elantra specs near Detroit
Similar to body style, the Nissan Sentra only has one power plant: a 2.0-liter inline 4-cylinder (I4) engine that produces 149 horsepower and 146 lb-ft of torque. There's no opportunity to upgrade to a stronger engine for greater acceleration ability. Although the Hyundai Elantra also has a 2.0-liter I4, you can get a turbocharged workhorse for an output of 201 horsepower and 195 lb-ft of torque on the Sport (2.0-liter) and N Line (a leaner 1.6-liter), which are the top-level trims on the regular Elantra and Elantra GT, respectively. That's 52 more horsepower and 49 more lb-ft of torque than what the Sentra provides.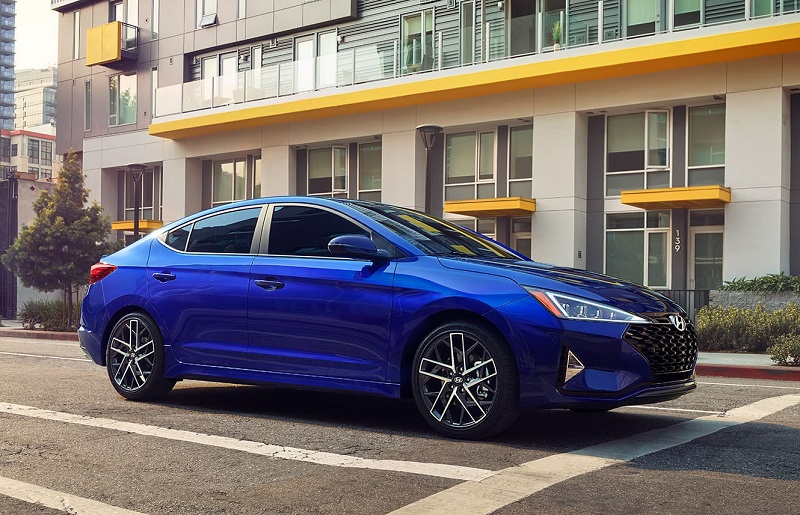 Powertrain – Hyundai Elantra specs near Detroit MI
As compact vehicles, both the 2020 Elantra and the 2020 Sentra use a front-engine front-wheel-drive layout. With its 2.0-liter I4 pinned to a continuously variable transmission (CVT), the Sentra peaks at 29 mpg in the city and 39 mpg on the highway. For the Elantra's peak gas mileage, you will need to go with the aptly named Eco, which has a turbocharged 2.0-liter I4 hitched to a 7-speed dual-clutch transmission (DCT). Both the DCT and the CVT are designed to eliminate shift shock (with the former's two separate clutches for odd- and even-numbered gears) or gear shifting altogether (in the case of the latter) to consequently promote more fuel efficiency in vehicles.
However, the Elantra has something that the Sentra doesn't: idle stop technology. That means the engine will automatically shut down when you come to a complete stop, rather than continue to consume fuel by staying on. As a result, the Elantra's Eco produces 33 mpg in the city and 41 mpg on the highway. That's 4 more mpg in city fuel economy and 2 more mpg in highway fuel economy than the Sentra's peak numbers.
Reliability – 2020 Hyundai Elantra dealer
J.D. Power and Associates rate each new vehicle's predicted reliability based on evaluating reports during the first 90 days of ownership. This is a way of gauging the possibility of major issues developing on the ride further down the road. On a scale of 1 to 5 Power Circles, the 2020 Elantra gets a rating of 4. This rating places it among the best in its class. By comparison, the 2020 Sentra gets a 2 ½ Power Circle rating, which is not entirely bad, but is not good, either. It means that the Sentra is less likely to be durable or reliable in the long run than the Elantra.
Read "2020 Hyundai Elantra vs 2020 Nissan Sentra" and are now more curious about the 2020 Elantra, rather than the 2020 Sentra? Call us today at Glassman Hyundai. Based in the Detroit area, Glassman Hyundai is known for serving Detroit Southfield Dearborn residents for several years. Check out our inventory online and go through our current specials and stop by for a test drive today. One of our Hyundai sales specialists—known for serving Detroit Southfield Dearborn—will be available to assist you all the way.
We appreciate your interest in our inventory, and apologize we do not have model details displaying on the website at this time. Please fill the form out below and our team will quickly respond, or, please call us at 248-291-9931 for more information.