New Hyundai 2019 Hyundai Veloster N near Detroit MI for Sale in Southfield, MI
2019 Hyundai Veloster N near Detroit MI
View Inventory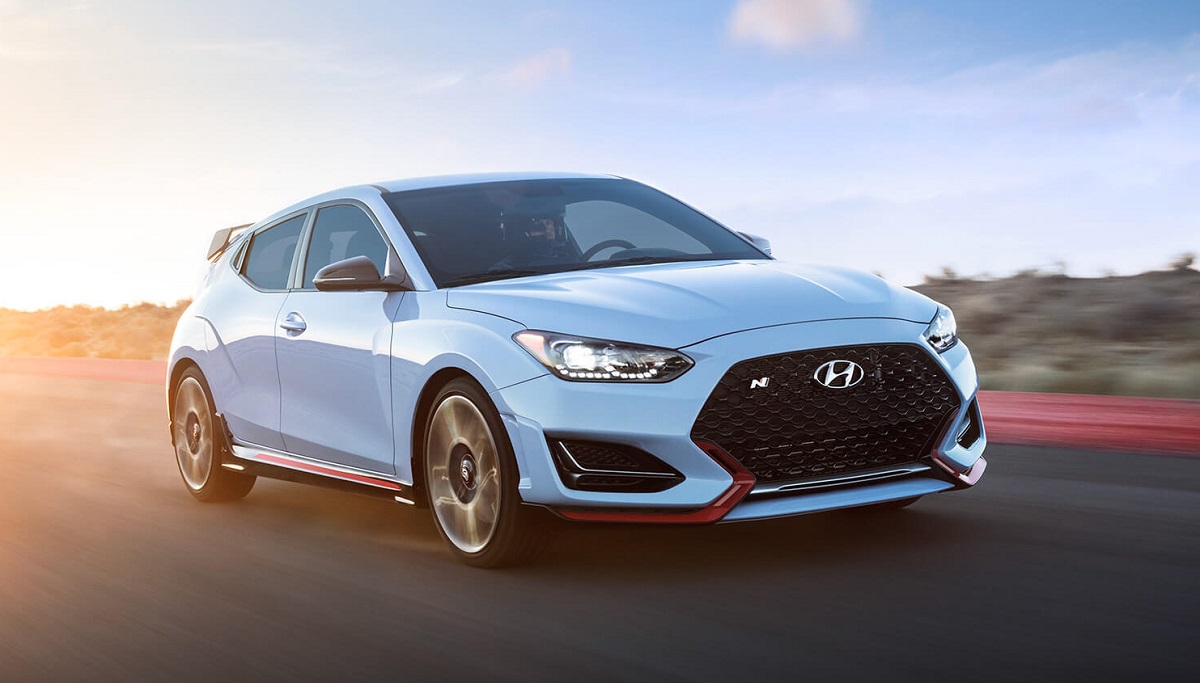 Vehicle Overview
The 2019 Hyundai Veloster N is the sports car inspired, stand out car of your dreams. This vehicle is the first of Hyundai's new high-performance line. With a 2.0L Turbocharged GDI engine, ranking in at 250 HP, with 275 HP available, and 6-speed manual transmission, this car's performance is going to blow the competition away. You can buy this show-stopping car at Glassman Hyundai, serving Detroit Michigan.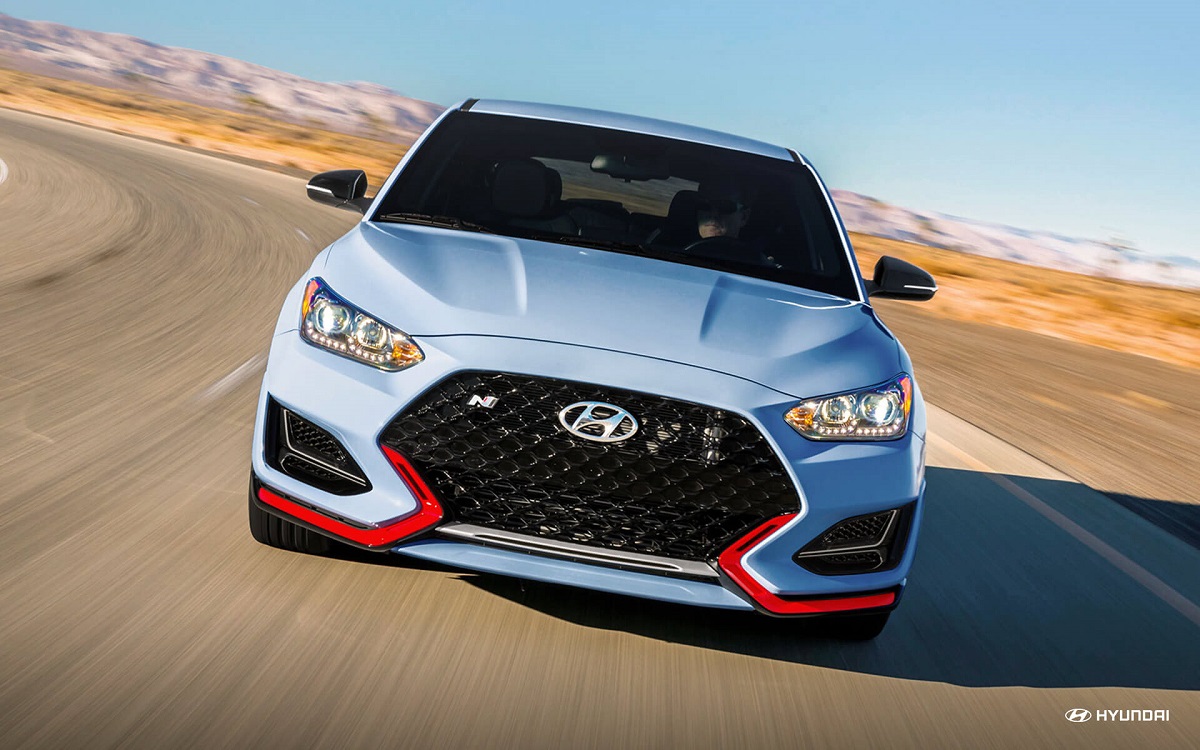 2019 Hyundai Veloster N's Exterior
The exterior design does not disappoint. It is available in Performance Blue and edged in red, along with a few other colors. The grill is completely unique on this model and features a snazzy N logo. Two tire kits are available. The base package is 18 in wide 225-series Michelin Pilot Super Sport tires. The upgrade features 19 in wide 235-series Pirelli P Zero rubber. Both choices enhance the super sport performance of this car. Huge dual exhaust tips snuggle tightly into the diffuser creating a sound match the performance car's power.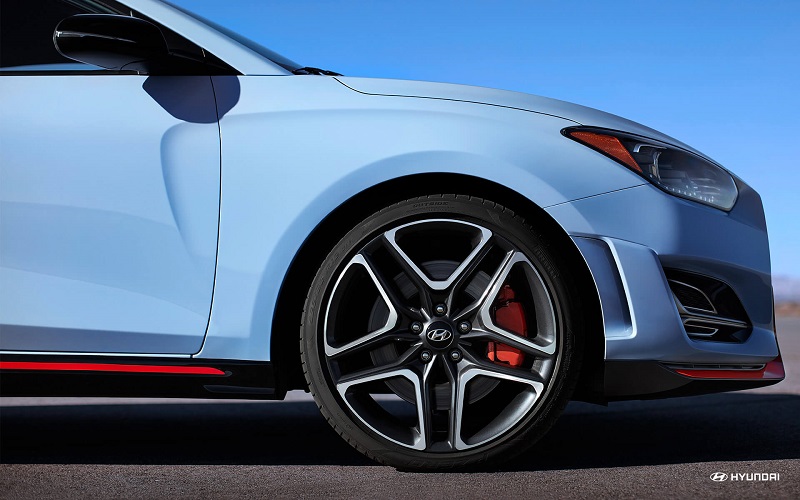 2019 Hyundai Veloster N's Interior
The interior is sleek and modern with a few key features not available in other Veloster models. First, seats are designed for hard cornering. The material is gripping, not slippery. The seats themselves are bolstered for extra stability. The seats are contrast stitched to add a dramatic flair. The seat belts are blue, a feature that will undoubtedly stand out. The best thing in the interior is the N logo on the steering wheel with rev-match buttons and N mode. Come to see the 2019 Hyundai Veloster N near Detroit MI to fully appreciate this sleek interior.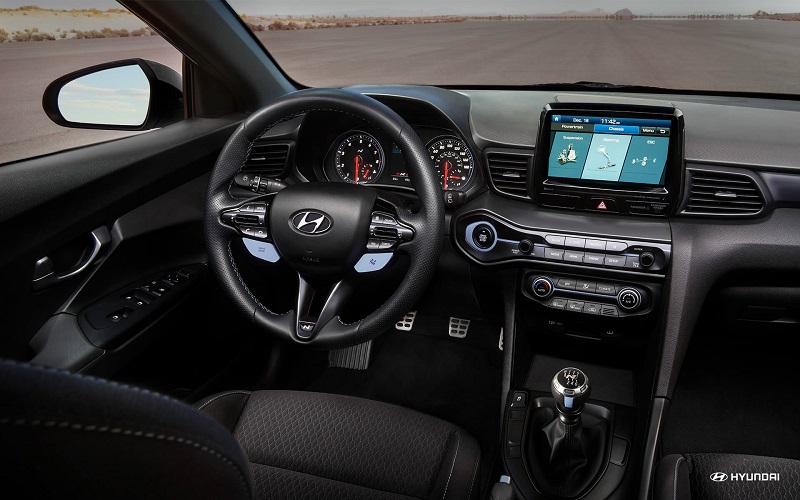 2019 Hyundai Veloster N's Mechanical
Under the hood, the 2019 Hyundai Veloster N near Detroit MI is all about power. The 2.0L Turbocharged GDI inline 4 supplies all the spirit of a sports car. This engine can supply up to 275 HP and 260 lb-ft of torque. It boasts a 9.5:1 compression ratio. The dual stage induction system cranks out maximum power at every RPM stage. The close ratio 6-speed manual transmission does not disappoint either. Shifting is as smooth as butter thanks to the carbon-coated synchro rings and rev-matching capabilities. FIve different settings make it easy to control this car when you are out and about. You can even create custom settings for your own driving habits. These controls alter things like exhaust note, throttle response, steering feel, tuning of adaptive dampers, and functionality of the limited slip differential in addition to others. This car makes the performance of a sports car within everyone's reach.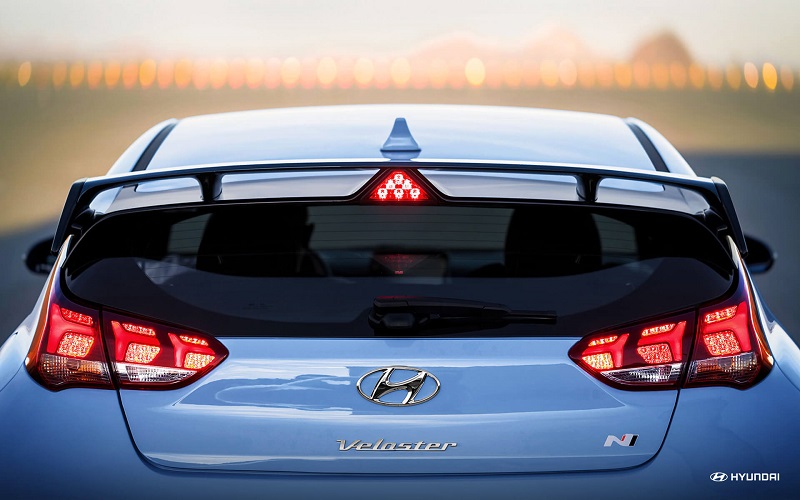 2019 Hyundai Veloster N's Powertrain
The powertrain on this car stands out from the competition. First, you have the already mentioned rev-matching capabilities which mean the car means the blips the throttle on downshifts to make the shifting smoother and better ride experience. A convenient button on the steering wheel switches this function on and off. The 6-speed transmission ensures you get maximum power. The dash even has an on-board display that signals the driver when to shift for optimal power.
2019 Hyundai Veloster N's Safety
Don't worry about safety when you drive this car. First of all, the bright blue seat belts are extremely visible at all times so you will never have to fumble in the dark to find it. Even more important is the strong steel and rigid body construction make which give it a solid foundation during impacts and make handling easier. The multi-link rear suspension, paired with high-performance brakes (13 in front and 11.8 in back), work to keep the car under control without sacrificing power, even on the windiest days. The electronic limited slip differential works to keep the car in control by preventing too much power from being allocated to any particular wheel.
The 2019 Hyundai Veloster N is the sportscar for those who don't want to break the bank. This car has all the stunning features and power of a much more expensive choice without carrying the burden of a hefty price tag. It is what we have come to expect from Hyundai, a safe, reliable car in the price range of most people, but this time the engineers have outdone themselves. From the sleek design to the overall ease of use to the amazing control and power coming from under the hood, this car stands out from the crowd, and you will, too.
Contact Glassman Hyundai, a KIA dealer near Detroit, to get more details about purchasing this marvel of our times.
This KIA dealer near Detroit is known as one the most professional dealers in the metropolitan area, proudly serving Detroit Michigan and all surrounding areas. Come to talk to us about test driving this amazing, affordable sports car, and see for yourself why we are known for our special offers and professional service mechanics.
Here at Glassman Hyundai, we don't want to sell you a car; we want to HELP you buy one.