New Hyundai 2019 Hyundai Tucson vs 2018 Hyundai Tucson – Detroit Area for Sale in Southfield, MI
2019 Hyundai Tucson vs 2018 Hyundai Tucson – Detroit Area
View Inventory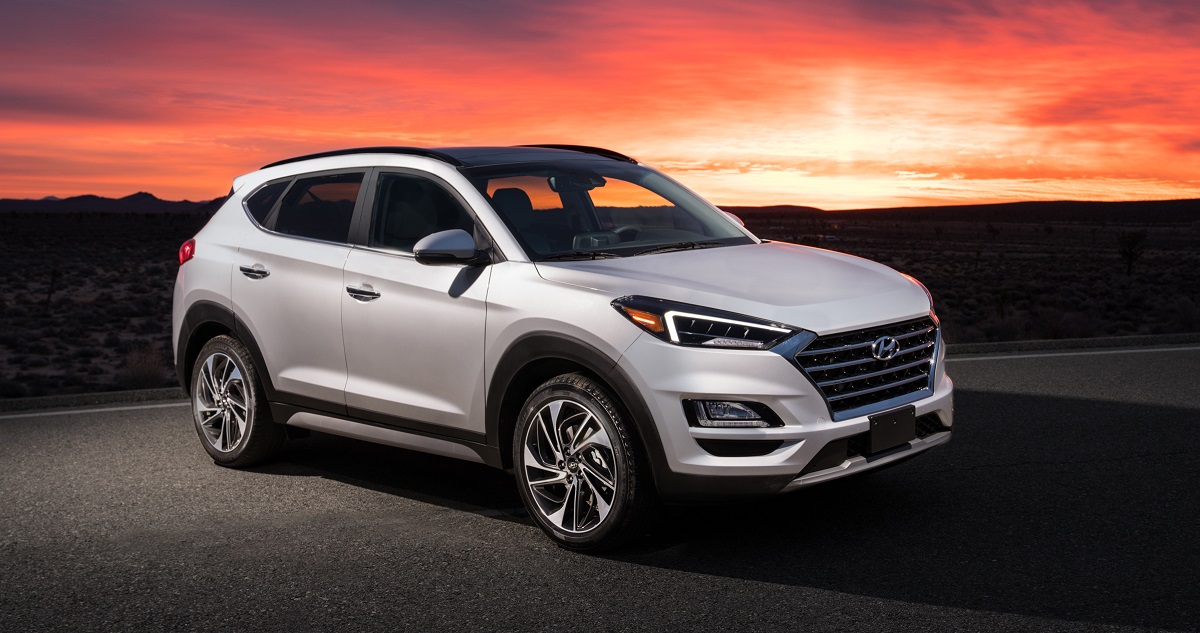 Vehicle Overview
The 2018 Hyundai Tucson was among the most popular vehicles at Glassman Hyundai serving Metro Detroit but throughout Michigan and even the U.S. Automotive journalists raved about its strong acceleration, safety scores and high-quality interior. Hyundai also offered a number of trims and options so that every driver could find the perfect package for them at a price that they could afford. It also provided seating for five as well as your choice of all-wheel drive or the standard front-wheel-drive.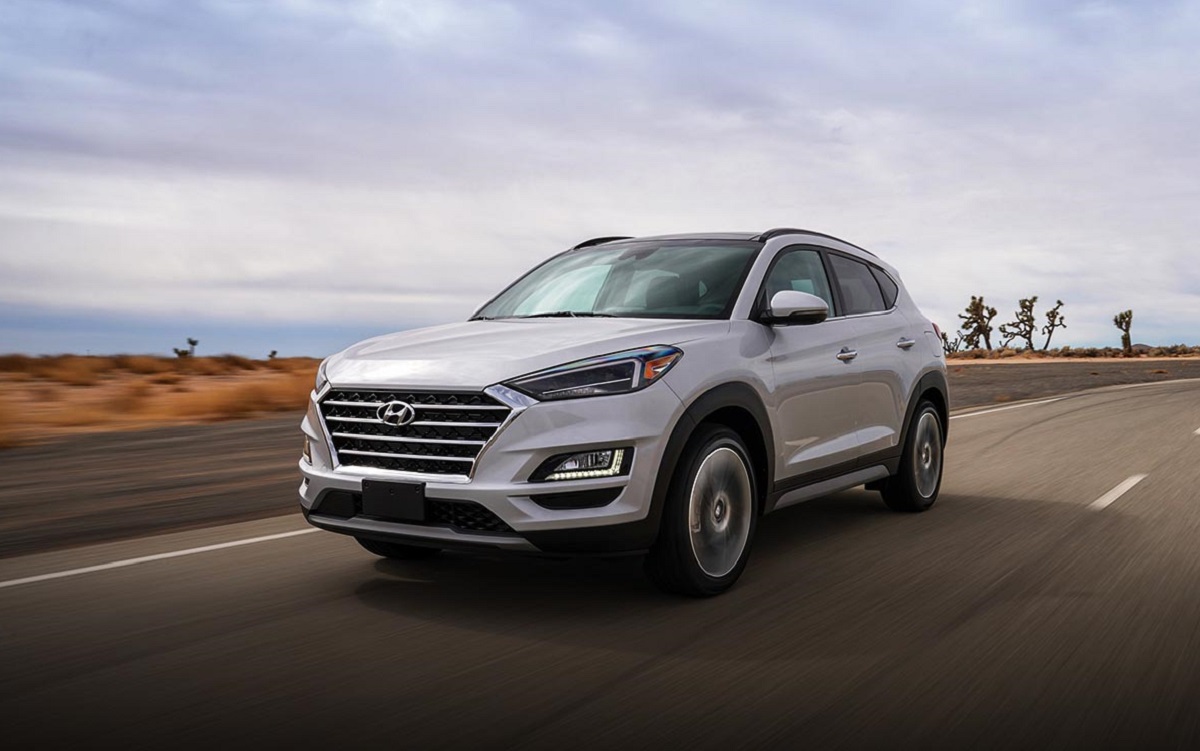 Exterior – 2019 Hyundai Tucson
Of course, this is a highly competitive segment where the 2019 Hyundai Tucson must face off against the likes of the CR-V and RAV4. Resting on past successes is not an option, and so Hyundai set out to make a laundry list of refinements as well as some significant changes. These changes include a completely redesigned front fascia, a reshaped rear end, new wheel options, an updated engine selection, more safety features provided standard and much more. Better yet, you get all that, and you still get one of the longest and most robust car warranties provided by any manufacturer for any vehicle. With that in mind, we present to you a 2019 Hyundai Tucson vs 2018 Hyundai Tucson comparison!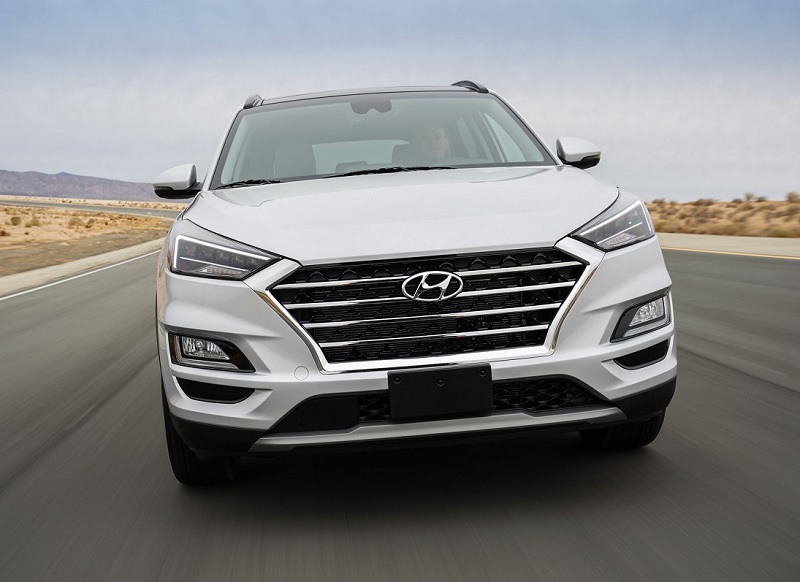 Interior – 2019 Hyundai Tucson near Detroit MI
The interior hasn't been redesigned as much as the exterior. Think of it as more of a refresh. What's interesting is that one of the new lead designers over at Hyundai cut his teeth at Audi. If you're familiar with that design approach, then one of the things that will jump out at you about the 2019 Hyundai Tucson vs 2018 Hyundai Tucson interior comparison is the classic, straight-line design and how it clearly draws on Audi inspiration.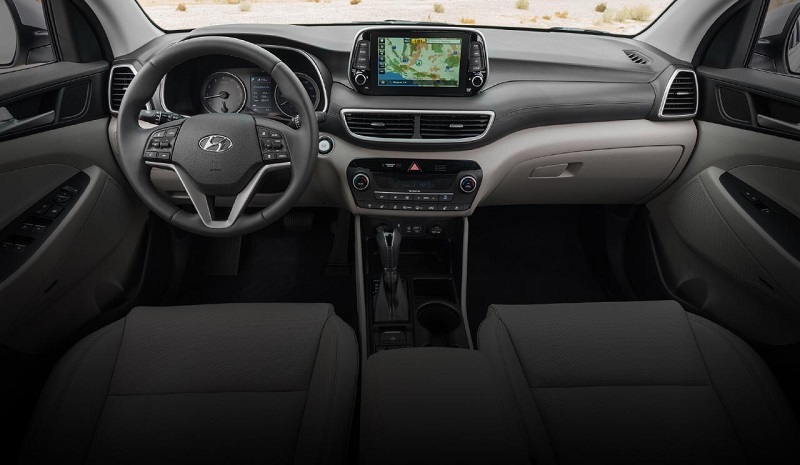 Mechanical – Tucson specs near Detroit
There's a 7-inch color touchscreen that's standard for even the SE and Value trims. It's been reoriented to sit up much higher-like German manufacturers are known for-and this makes it a lot easier to read and use the display while driving. Seating has been drastically improved and is a great reason to visit Glassman Hyundai or any Hyundai dealer serving Southfield Detroit Waterford. Another reason is the optional sunroof, which is simply massive and takes up almost the entire roof.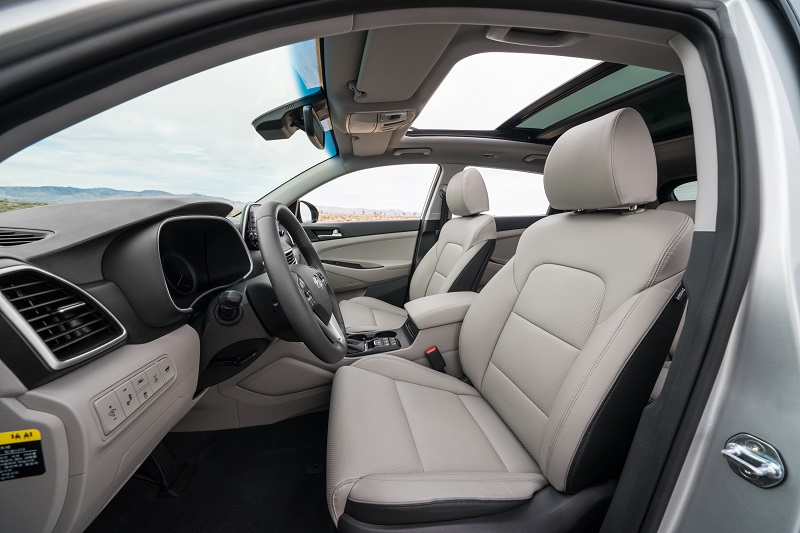 Powertrain – Hyundai Tucson specs near Detroit MI
When you visit your local Hyundai dealership serving Southfield Detroit Waterford, the first thing that will jump out at you is the front fascia redesign. This is a complete redesign that aligns it with the all-new Hyundai corporate face but is unique to the Tucson as well. Differences from the 2018 Hyundai Tucson include sleeker, narrower lights and noticeably wider grille slots. The rear has been redesigned too, and perhaps nowhere is this more noticeable than with the eye-popping dual rear exhaust.
Safety – 2019 Hyundai Tucson dealer
The 2018 Hyundai Tucson had an excellent safety track record in Metro Detroit and beyond, and it scored well with the IIHS before ever hitting the road. As a Top Safety Pick, there's no reason to reinvent the wheel, but what Hyundai did do was improve features that were already in place as well as make some optional safety features standard. In fact, standard safety features are one of the important ways that the Tucson really distinguishes itself from its competition. Even the Value trim gets features like blind-spot and rear cross-traffic collision warning systems at no additional charge.
If you're considering a vehicle in the compact crossover SUV space, then you owe it to yourself to see this all-new 2019 model in person. Even if you think you know exactly what to expect, give Hyundai and your local dealership serving Southfield Detroit Waterford the chance to blow you away. Not only is the Tucson better and more competitive than it's ever been, but the prices, specials and financing options that are available are really aggressive as well. Maybe today is the day you drive away in that brand new car, so give us a call at Glassman Hyundai or just stop on the next time you're in the area.