New Hyundai 2019 Hyundai Santa Fe in Southfield Michigan for Sale in Southfield, MI
2019 Hyundai Santa Fe in Southfield Michigan
View Inventory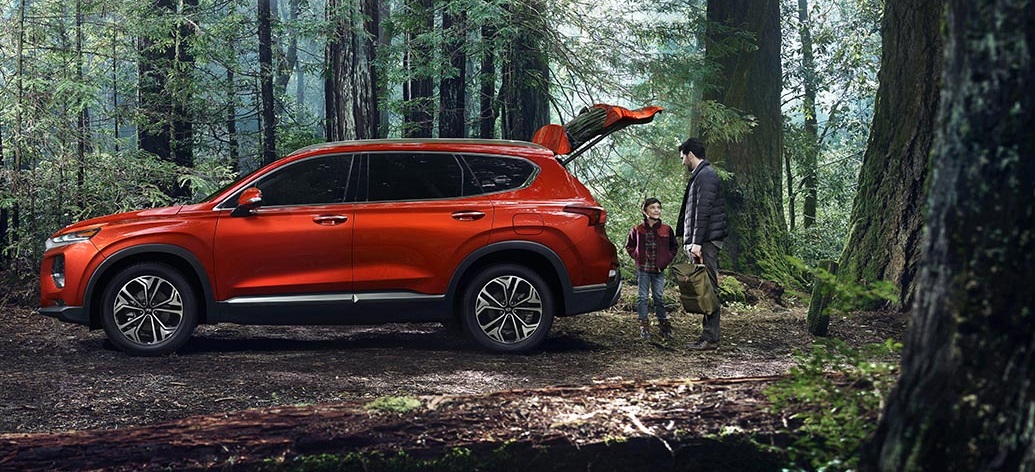 Vehicle Overview
The Hyundai Santa Fe is a superb choice if you're looking for an SUV that has class, space and personality. The 2019 version has a few changes that the company implemented in not only style but amenities. The previous version was already ahead of some of the other crossovers in its class. It had a number 14 rating in the class. The following is some information about the model so that you can decide whether it's for you. If so, you can schedule an appointment to get a close-up view of it at the dealership in the area.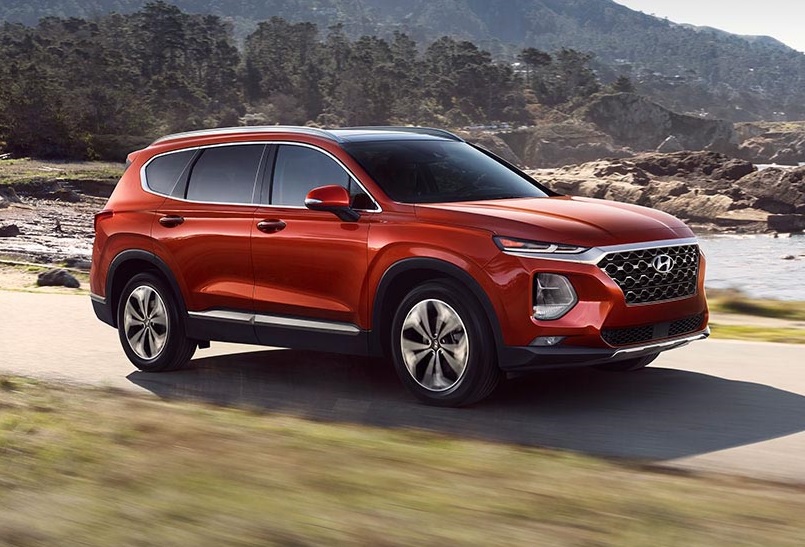 2019 Hyundai Santa Fe's Exterior
The exterior is the part of the vehicle that has received the most adjustments. The manufacturer felt like it needed quite a few design changes, so it redesigned its cascade grille and made its body a little less curvy and the lighting a little more elaborate. The changes give it more dignified appearance, but they don't detract from the sense of sportiness that it has. The color choices are elegant for the most part. Some of the options you will have for colors are Beckets Black, Monaco White, Storm Blue, Circuit Silver, Regal Red Pearl and the like. Choose the one that fits the style you want to present when you go out into the world and have fun with it.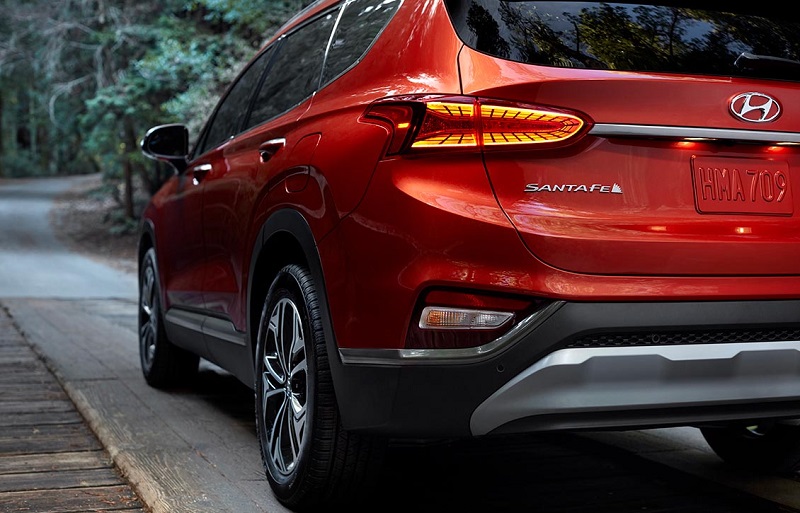 2019 Hyundai Santa Fe's Interior
This model is a super spacious and comfortable model that will be an absolute pleasure to be in. Its leather seating will give you a taste of luxury as well as protection against unwanted spills. You'll also have some amenities at your fingertips such as eight-way power driver seat, illuminated ignition, door map pockets, optional heated seats and more. You'll be completely satisfied with the model. Just ask the Southfield Hyundai rep to let you take a ride in the vehicle so that you can see what it's like.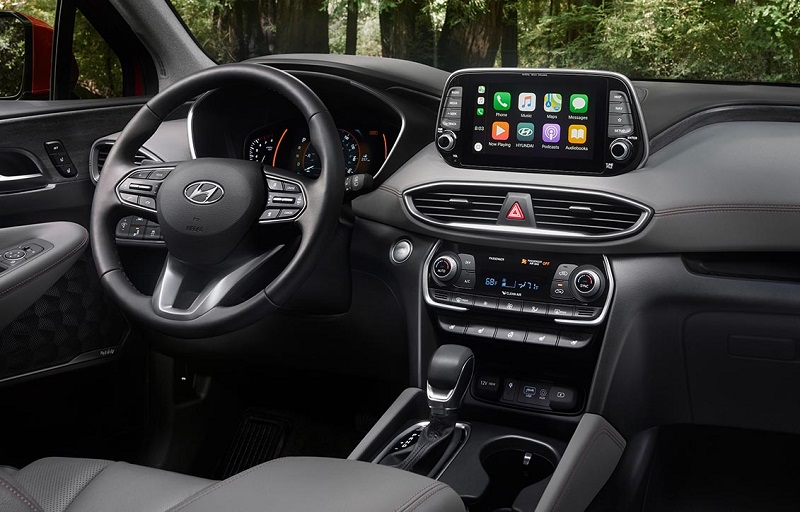 2019 Hyundai Santa Fe's Mechanical
This model has plenty of mechanical and technological features with it to accommodate you and your riders. You'll see some amazing things like the wireless charging past and the Navigation System by AVN. The navigation is fully compatible with both Android Auto and Apple CarPlay, so you'll be pleased with it. Other things that you will have in your cabin are elements such as the 7-inch display audio system, Bluetooth, SiriusXM, and so on. You'll never have to stress about boring your passengers or not having enough to do yourself when you sit behind the wheel of this vehicle. It was made to give you the highest level of comfort.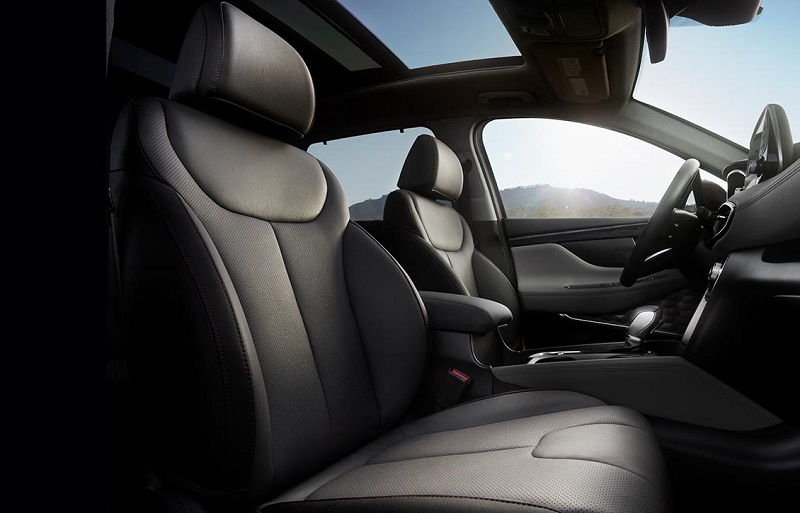 2019 Hyundai Santa Fe's Powertrain
The newest model has a generous selection of powertrain options for you. You could choose to take a 2.0, 2.2 or 2.4-Liter motor for your engine. Your horsepower will be no less than 185-hp no matter which option you chose. You can select the best fit for yourself based on your fuel efficiency and power needs. The manufacturer made sure that there was an option no matter what your situation is. Stop by the dealerships so that you can get behind the wheel and really see what the different options are all about. A Southfield Hyundai specialist can help you pick out the best option.
2019 Hyundai Santa Fe's Safety
The Santa Fe has a wealth of safety features that work in unison to brace and protect you no matter where your journey leads you. The previous model received high ratings for its safety features from the critics and from the customers. It's currently one of the best in its category because of all the features that it has to protect drivers and passengers. Some of the features that you will have on this car are features such as Safety Exit Assist. Safety Exit Assist is a brilliant piece of safety technology that locks the doors when a vehicle of any kind approaches the car from behind on either side. This is set up to allow the person to get out of the vehicle safely and at that right time. The traction and stability control systems are in place to ensure that you constantly have a grip on the road and that your vehicle is as firm as possible. Other features that you'll have access to are features such as the Blind Spot Detection and Rear Cross Traffic Alert if you want them. The model has a smorgasbord of additional features for your safety. You can get more information on them by visiting the dealer in Southfield Michigan and asking the salesperson to tell you the rest of the safety options that you have.
Visit Glassman Hyundai
Contact Glassman Hyundai in Southfield Michigan so that you can take a ride around town in this accommodating vehicle. You can contact the facility by telephone call or short form. A salesperson will accompany you on a brief trip around the neighboring areas, and you will have the opportunity to discuss different aspects of the vehicle with him. You can talk about trim and add-on features. If you find that the Santa Fe is for you, then you can move on to the finance department where a team of Southfield Hyundai specialists will work hard to get you the best deal possible. Visit Glassman Hyundai in Southfield Michigan and get behind the wheel of this amazing vehicle today.
*This article is intended for informational purposes only. Please contact the dealer for the most updated information and specials.