View Inventory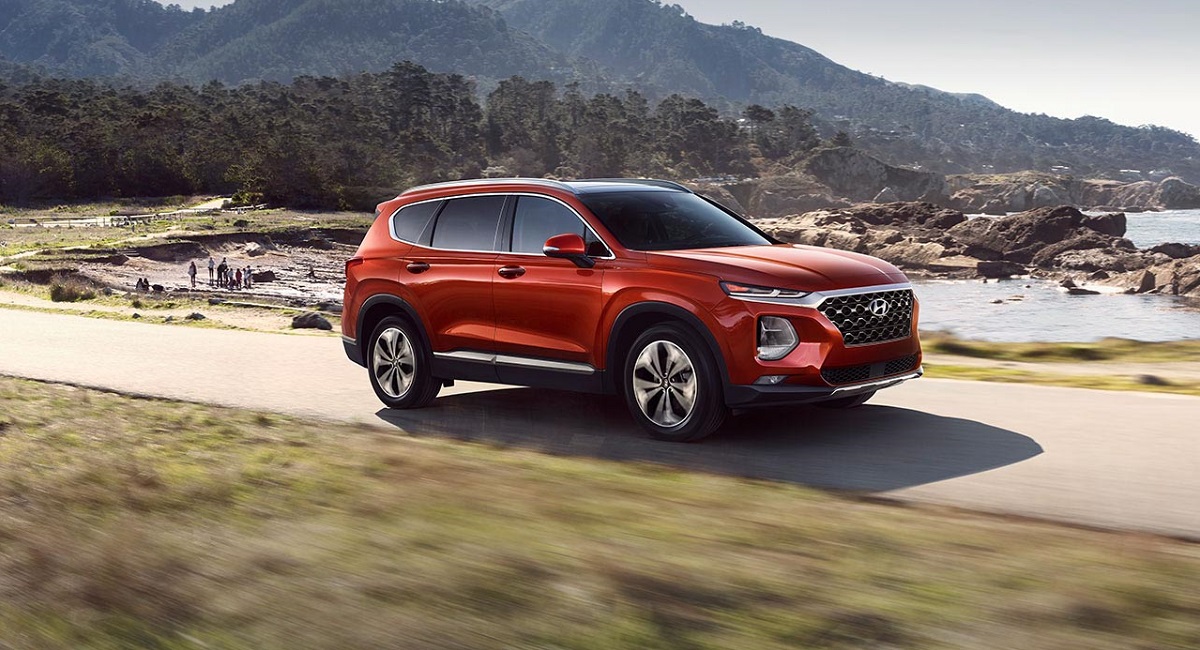 2019 Hyundai Santa Fe Trim Levels
Your Hyundai store, here in Metro Detroit serving Southfield Waterford Michigan, has some big Santa Fe news for 2019. The 2019 Hyundai Santa Fe Trim Levels are most impressive.
It is important to note that 2019 Hyundai Santa FE is an SUV as opposed to a CUV.
The distinction is that an SUV (Sport Utility Vehicle) is built on a truck chassis. A CUV (crossover utility vehicle) is built on a car chassis.
A truck chassis gives the 2019 Hyundai Santa FE a heavier, more robust chassis. It sits higher than a CUV chassis giving it more ground clearance.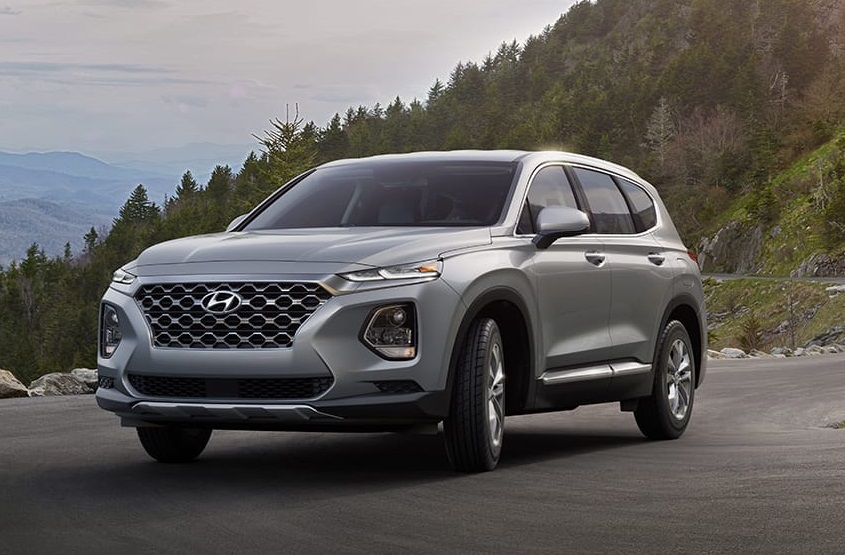 Higher ground clearance gives it terrain versatility. This means it can be driven over a more diverse range of driving surfaces without undercarriage damage.
Additionally, this vehicle comes with seven different Trim Levels. This means you can get it pretty much any way you want it. 2019 Hyundai Santa FE Trim Levels are practically limitless.
Hyundai even offers add-on features to the trim packages. Look over the first five 2019 Hyundai Santa Fe option highlights below to select the exact Santa Fe that fits your needs.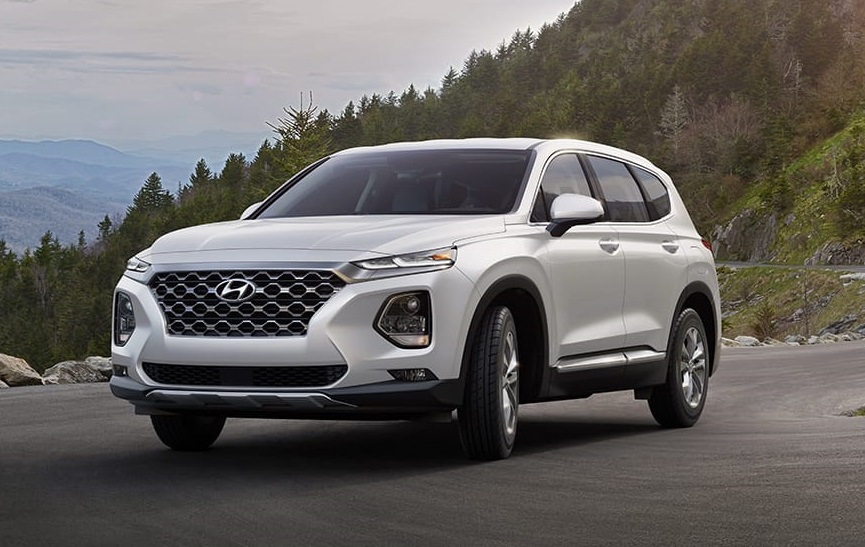 Hyundai Santa Fe SE
What are the first three things buyers look at when purchasing a vehicle? First, they look at Price; then, they look at Price, and finally, they look at ... you guessed it, PRICE.
How many times have you heard it? "Price sells cars." Increasingly, car buyers want to know they are getting their money's worth. They even want more than their money's worth if they can find it.
The SE answers this quest nicely. MSRP (Manufacturer's Suggested Retail Price) is $25,500. After the $1,250 Retail Bonus Cash gets applied, it is under $25,000, costing only $24,250!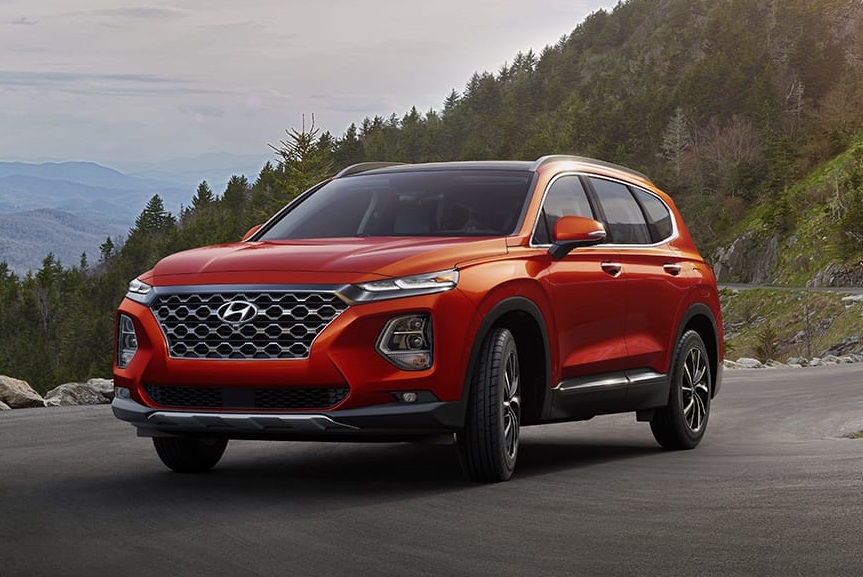 Now, what do you get for less than $25,000? First, you get excellent gas mileage at 22 mpg city, 29 mpg highway with a combined 25 mpg average. That is almost 30 mpg (miles per gallon) on the highway.
It comes with a 2.4 liter engine that produces 185 horsepower. The Santa Fe SE also has 3-way collision avoidance sensors for front, rear and blind spot locations.
The interior features a huge 7-inch audio display with Apple CarPlay. It also has a tastefully appointed interior with steering wheel controls. Wireless recharge pad and available sunroof round out the list.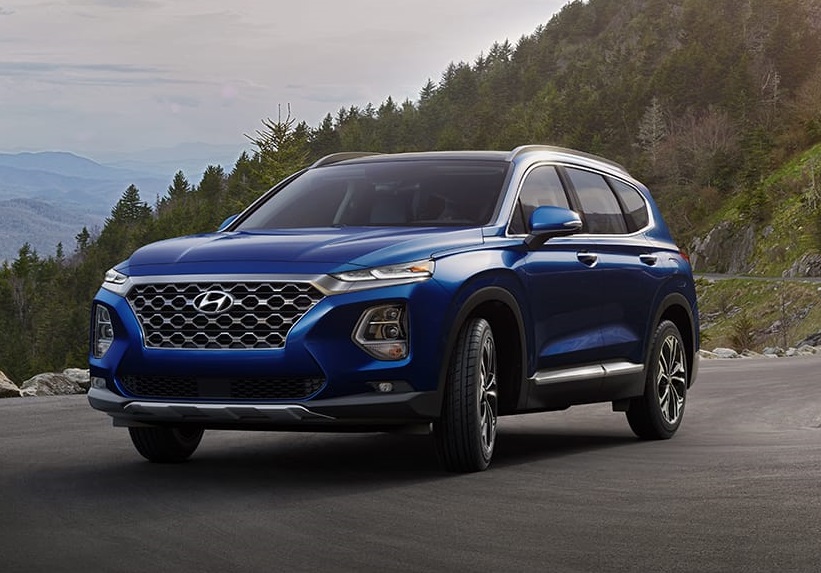 Hyundai Santa Fe SEL
The next level up, priced at $25,850 after Retail Bonus Cash, has all the amenities of the SE. It also adds Push Button Start and a color 7-inch media display. A power rear seat fold down increases or decreases rear compartment space as needed.
The newly designed front end, standard at every Trim Level, looks like a bigger, heavier sports car. Head lights and fog lights flank the corners of the chrome grill area.
Hyundai Santa Fe SEL Plus
At $28,050, the SEL Plus offers all the advantages of the SE and SEL. It has the same 185 horsepower engine and money-saving gas mileage plus other, helpful features.
One of the most impressive and thoughtful features of the SEL Plus is the Rear Occupant Alert. It reminds the often distracted driver they have a child onboard.
This alert can save infant lives. It should reduce the number of forgotten children left unattended in an overheated interior. A hands-free lift gate and dual temp controls are also SEL Plus features.
Hyundai Santa Fe Limited
Costing just over $30,000, the Limited has all the features of the first three plus still more luxury. One of the most noticeable inclusions at this trim level is the bigger, fuller sunroof.
This sunroof gives the term, wide open view new meaning. Front LED headlights, fog lights plus rear LED brake lights not only look great, but they give superior lighting. The leather interior is the coup de grace of this trim version.
Hyundai Santa Fe Limited 2.0T
Priced at under $32,000, this trim level has the full list of features of the previous four trims. It also has a stronger 235 horsepower DOHC (Dual Over Head Cam) engine.
Without getting too technical, DOHC engine setups give the engine two cams: one for intake valves and a separate one for exhaust valves.
The wider angle between the two gives more air flow, and this increased air flow means higher speeds. For the customer who wants more pep in the engine and better, quicker response, this added horsepower and setup furnishes it.
Exterior Highlights
Every trim includes automatic headlights. These headlights work off sensors which measure the amount of daylight and come on when natural light is sufficiently low.
These headlights also have high beam sensors. They automatically dim when they sense approaching vehicle headlights. This feature eliminates accidentally blinding the oncoming driver.
Additional Interior Features
In the Ultimate features list you will find a very helpful driver feature. The essential vehicle operation information appears in the windshield right at the top of the steering wheel.
This added safety feature informs the driver instantly without having to shift the line of vision off the road. The Ultimate also has ventilated seats and an even larger 8-inch touch screen navigation.
The Ultimate 2.OT, has surround view monitoring in addition to in-the-windshield display. Heated rear seats increase rear passenger comfort.
The driver seat has a driver memory system that "remembers" the primary driver's preference settings.
Conclusion
This article only highlights some of the more important trim level features of five trim levels with additional standout options of the top two trims.
There are seven total trim levels available for 2019. These can be modified to buyer requirements per purchase. Please contact your Metro Detroit dealership for all trim and vehicle information. We have been serving Detroit Southfield Waterford Michigan for many years.
NOTE: This article is for general information purposes only. It is yet another small way of serving Detroit Southfield Waterford Michigan Santa Fe customers. For more specific,complete information please contact the dealership.