New Hyundai 2018 Hyundai Santa Fe serving Detroit MI for Sale in Southfield, MI
2018 Hyundai Santa Fe serving Detroit MI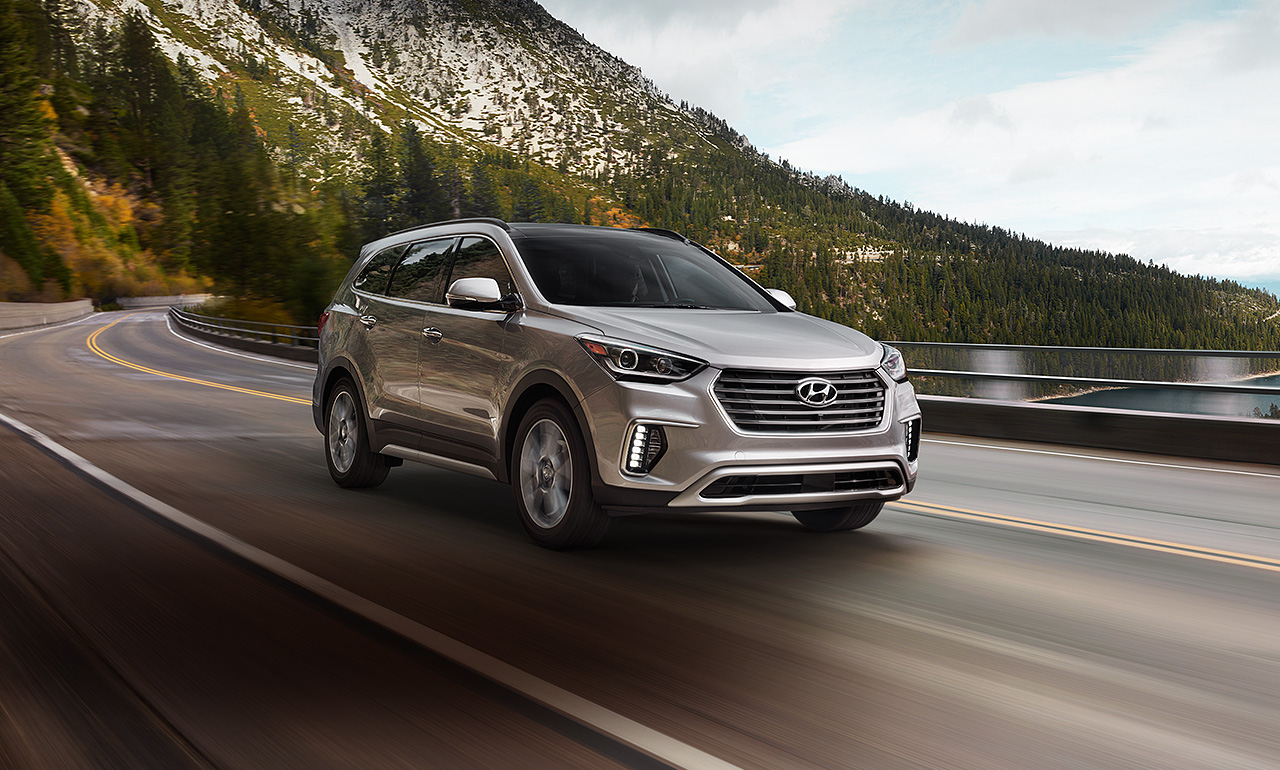 View Inventory
Vehicle Overview
Explore the 2018 Hyundai Santa Fe at our dealership and you'll be able to get a preview of one of the most attractive new vehicles that are coming to our lot. This vehicle has everything and our dealership serving Detroit MI is ready to help you get a great deal on this fantastic vehicle. This vehicle is loaded with technology so that you can enjoy your commutes and entertain your guests throughout the day. Come down to our Metro Detroit area dealership, and we will show you how this car keeps you more connected in ways that previously weren't possible.
Interior
At Glassman Hyundai, the interior of a vehicle is important to us. That's why we are so excited about this new vehicle. It has blind spot detection, a rear cross traffic alert and lane change system and a hands-free liftgate that is designed to open automatically. The vehicle also comes with spots for USB devices in three locations throughout the cabin. Imagine having the ability to stay connected and charged at all times. The new Hyundai is ready to take you to the next level as you pack all of your gear into its enormously roomy cargo area. Come down and see how the vehicle makes it easy for you to stay in contact with friends and family thanks to the smart Bluetooth system that allows you to send and receive texts hands-free. The changes for 2018 are exciting and we want to make sure you're in on all the fun.
Exterior
The Santa Fe comes with features like premium exterior door trim and silver-painted accents to get you started. You'll also get a premium rear and lower front fascia designed to give you that extra layer of style and functionality. Come down and explore all the options for storing your gear with the roof rack side and cross rails. The 2018 Hyundai Santa Fe comes with heated side mirrors that are standard on all vehicle options and you'll love the side mirror turn signal indicators that let you signal your intentions with more accuracy. A windshield de-icer comes in handy when you need to get going in snowy weather and the vehicle also features solar glass and rear privacy glass to ensure you've got the right protections. HID headlights with Dynamic Bending Light are also designed to help you see more and are available as an optional component. Visit our dealership serving Detroit MI residents to find out how you can get more from your vehicle.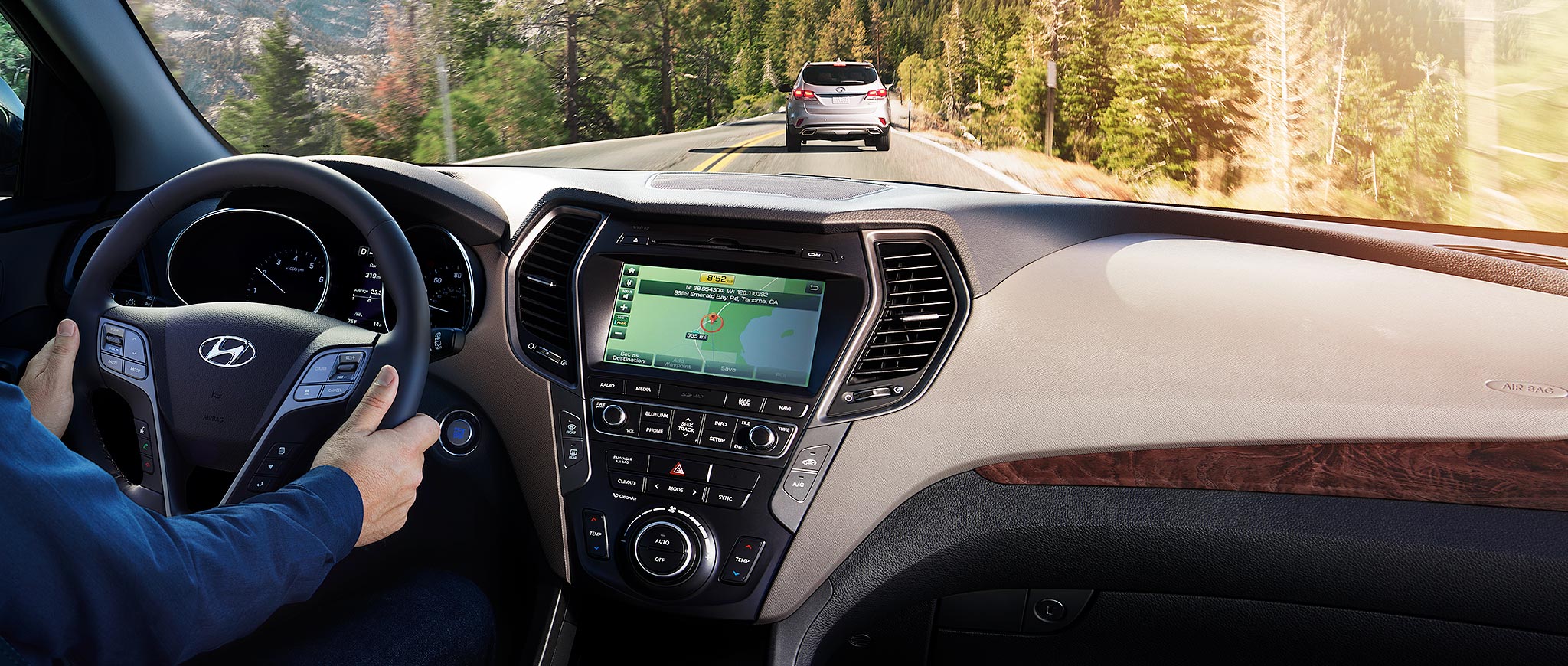 Mechanical
This vehicle comes with front-wheel drive standard, but you can also get an all-wheel-drive version that is designed to give you enhanced stability and better protection on the road. Come down and see this vehicle in action and you'll fall in love with the unibody design and smart suspension that helps to give this vehicle an added layer of reliability. At our Metro Detroit we'll help you get into this strong and powerful vehicle that has a towing capacity of 5,000 pounds. The vehicle also comes with 18-inch alloy wheels on the base model and 19-inch alloy wheels on the upgraded models. Give Glassman Hyundai a call and we will help you find the right vehicle for your situation. At our Hyundai dealership, your vehicle and desires matter to us and we will work hard to find you the vehicle and options you want.
Powertrain
The 2018 version of the Santa Fe comes with a powerful V6 engine that is designed to help you enjoy more versatility. It's powerful enough to tow a trailer or bring along your motorcycles for an enjoyable day out. The vehicle offers 290 horsepower and 252 pound-feet of torque so that you can get the right level of power for your situation. You'll have great passing power with this engine, and you'll love the way the engine purrs as you rev it up to freeway speeds. The 2018 Hyundai Santa Fe is designed for people who seek adventure, and it is spacious enough to include the entire crew. Come down and schedule your test drive so that we can show you how this incredible vehicle works. We want to provide you with the best possible driving experience to ensure you get the vehicle that suits your needs.
Safety
At our dealership serving Detroit MI, we have some great news about the safety of this vehicle. It's got a ton of optional and standard safety features, but you'll want to come down to see what options we have specifically on our lot. With blind spot detection, you'll be able to avoid an accident with someone who hiding out to your side. The vehicle also has rear parking sensors and a rearview camera for added safety. Through a combination of active and passive features, you'll be able to enjoy a vehicle that works exceptionally well and keeps you safe. Metro Detroit wants to help you find the perfect vehicle for your situation so give Glassman Hyundai a call today.
Come down to our Hyundai dealership and get to know the new 2018 version of the Santa Fe. We'll take you for a test drive so you can get to know this vehicle in person. Our team will work hard to help you find the perfect vehicle. We want to make you happy with your purchase, and we will do what we can to get the vehicle with the options you want.