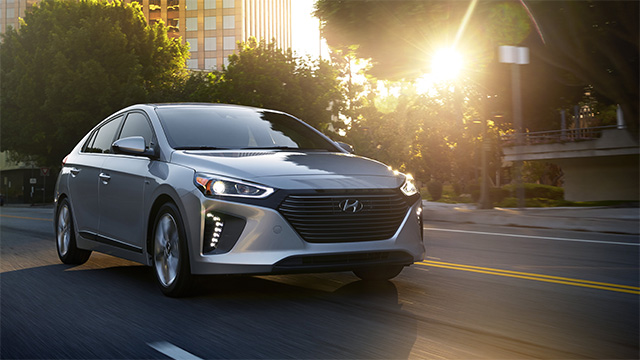 Vehicle Overview
Electrify your life with the 2018 Hyundai Ioniq Hybrid in Michigan. This new vehicle is designed to provide you with the perfect level of performance while saving you on fuel costs and reducing your carbon footprint. The 2018 Hyundai Ioniq Hybrid is designed for those who care about how their vehicle makes them feel. You'll love the way this vehicle offers you choice. In fact, there are three possible models to choose from. Select from the all-electric, hybrid or plug-in hybrid to meet the needs of your particular wants and desires. This vehicle will be available at our dealership serving Michigan so act now to ensure you're first waiting in line.
Interior
The hybrid models come standard with Apple CarPlay and Android Auto. This means you won't have to make a choice when deciding what platform works best with your vehicle. There is also the option of getting leather seating surfaced and a power driver seat to give you an incredible level of comfort. The interior features are simply too many to list, but you'll get an exciting array of options when you purchase this vehicle. Enjoy power door locks, a six-way driver seat with lumbar support, rear window defroster and several other convenience features. The seven-inch touchscreen display works with your smartphone to bring you music. It also functions as a rearview camera so that you can get a clear view of the world behind you while backing up. The vehicle is designed with a Bluetooth hands-free phone system to keep connected to your friends without having to worry about your phone getting in the way of your driving. Get inside easier with the proximity key and get started in a flash with the push button start that is designed to help you get going more quickly. Come down to our Michigan Hyundai dealership for the complete details from Glassman Hyundai and get our full 2018 Ioniq Hybrid review.
Exterior
The vehicle is designed with a solid unibody construction that is intended to help resist corrosion and provide better durability. You'll also get a vehicle that comes with active grille shutters, a dramatic rear spoiler and dual power side mirrors. Solar control glass comes standard on the 2018 Hyundai Ioniq Hybrid in Michigan. You'll also get automatic headlight control, a light that comes on as you approaches the door and several smart features that are designed to help you get more enjoyment from the vehicle. Come down and check out the 2018 Hyundai Ioniq Hybrid in person to find out how it can help you live a less stressful life.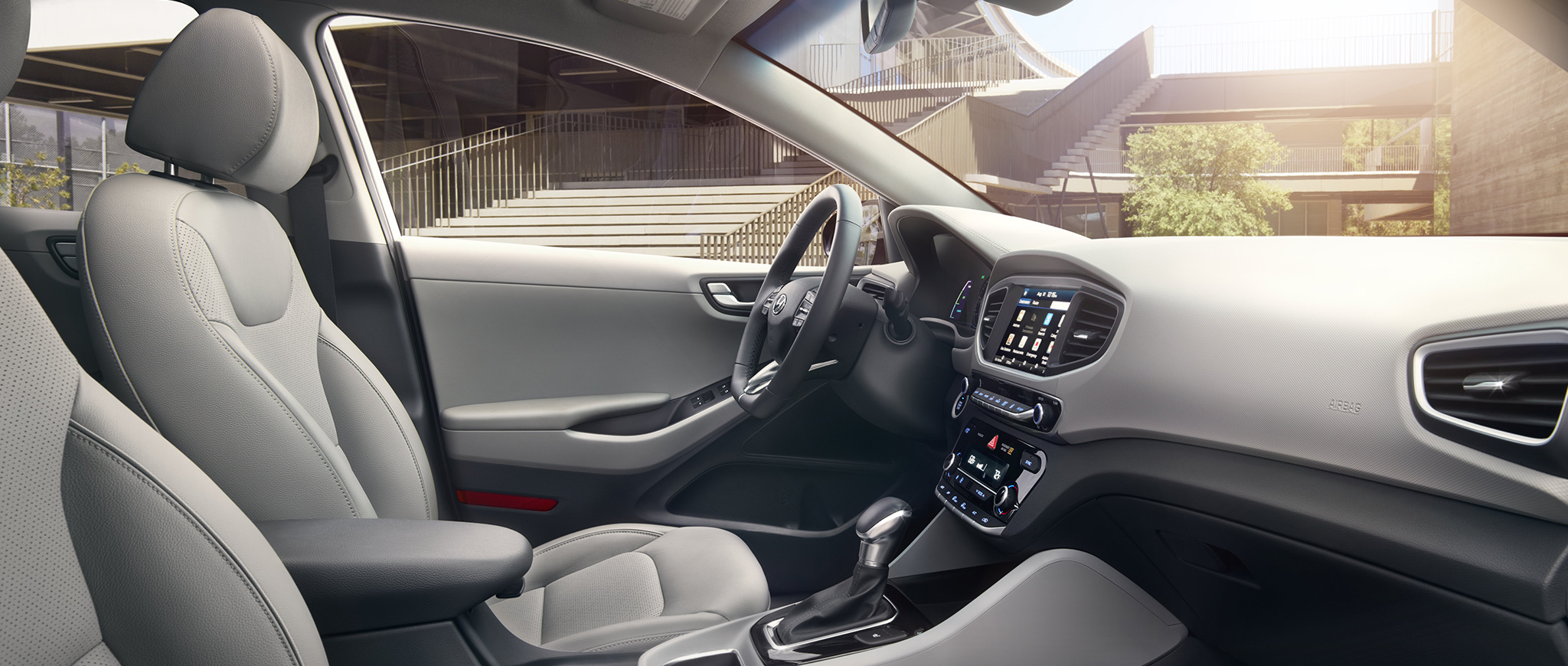 Mechanical
There are a host of mechanical features available on this vehicle. The electric battery features a smart design that is capable of providing 43 horsepower to help you drive more efficiently. The battery is intelligently charged while moving through the use of all the moving parts. When you come to our dealership serving Michigan, you can experience how well this vehicle actually handles. Let us know the options you want, and we will get in contact with you when a vehicle that matches come onto our lot. One nice feature of this vehicle is that it doesn't have many of the components that can break down in a normal car like the timing belt. Schedule a visit when this vehicle will be on our lot by contacting our Michigan Hyundai dealership.
Powertrain
The engine on this vehicle offers a 1.6-liter GDI 16-valve four-cylinder engine. It is able to output 104 horsepower on its own while the electric battery is able to increase those numbers. The torque that is unleashed is impressive at 109 pound-feet. When the battery begins to wear down, the vehicle can use fuel and other systems to recharge and recover energy. A decent stretch down a steep hill can actually give you a few extra miles just for coasting and let the rotation of the wheels recharge the battery. Come down to Glassman Hyundai for a complete 2018 Ioniq Hybrid review and check out what we have in store for you.
Safety
There are numerous safety features to help you avoid and reduce the impact of a collision. The driver's blind spot mirror can help you avoid accidents along with the blind spot detection system on certain models. There is also a rearview camera to make backing up easier, and you'll enjoy a host of other options to improve safety while parking. The lane departure warning system alerts you when you're leaving your lane and the headlights actually bend to see around corners on some models. There is also a tire pressure monitoring system to help you keep your vehicles at optimal capacity. Come down and explore all of the features in the 2018 Hyundai Ioniq Hybrid in Michigan. The 2018 Hyundai Ioniq Hybrid will soon be available at our dealership serving Michigan residents.
Come down to visit our Michigan Hyundai dealership to find the best options for your personal situation. When you visit our dealership, we will help you get a good offer on your financing. We will work with you regardless of your credit situation to ensure you're able to take home one of these amazing vehicles today. When you come in and see us, we can show you different payment plans and offer incentives to get this vehicle when it becomes available. Come and see the entire Glassman Hyundai 2018 Ioniq Hybrid review when you schedule an appointment with our dealer.