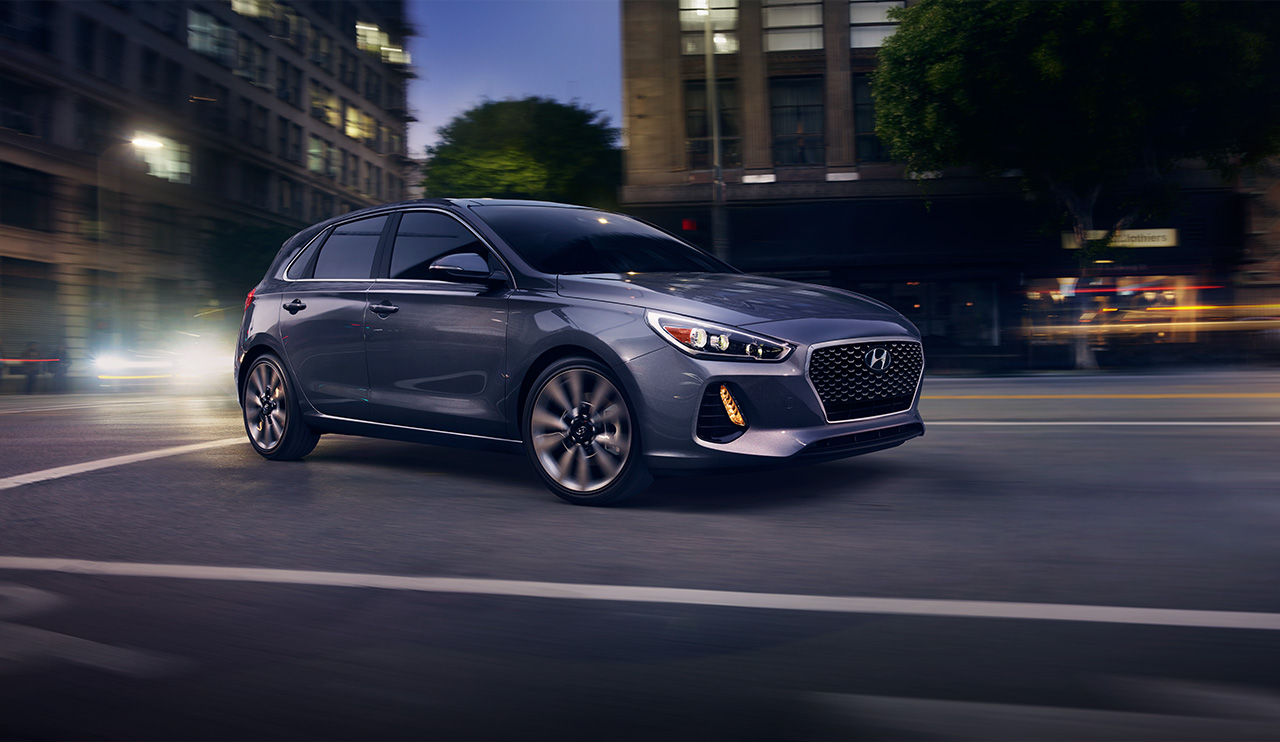 Overview
Finding the right small car is easier with the new 2018 Hyundai Elantra GT near Detroit MI. Two versions offer two choices for your lifestyle. Higher horsepower meets more aggressive performance. As you will learn in this 2018 Elantra GT review, fun is definitely on the menu at your Detroit Area Hyundai dealer serving Southfield Detroit Waterford Michigan.
Interior
For starters, the Hyundai Elantra GT really does compete with today's compact SUVs. The interior allows 96.5 cu.ft. of wiggle room for passengers. Owners will appreciate the big, 25-cu.ft. cargo hold. If you fold the seats, the Elantra GT boosts more space than rivals such as the Ford Focus, Mazda 3, Chevy Cruze or Honda Civic hatchback serving Southfield Detroit Waterford. Standard GTs offer high quality upholstery and a handsome cabin. Critics like the way the new eight-inch touchscreen seems to floats on the dashboard. Not only is it an inch bigger than last year's model, but it also has a better processor to speed up response time. Also, smartphone integration is multiplied with the introduction of Apple CarPlay for iphones and its rival Android Auto. A rearview camera shows you what the cars best path for reverse maneuvers. With Blue Link, the Elantra GT owner can unlock, lock or start the car. This smartphone apps works in seconds with just a few taps. Hyundai also makes it possible to access Alexa with either Amazon Echo or Dot. Using this service, 2018 Elantra GT drivers can heat or cool the cabin before the next trip. If you prefer the Elantra GT Sport, you can get a dual-zone programmable HVAC system for more comfortable travel. It also has heated front cushions. Leather upholstery covers both rows of comfortable seats. Push button ignition gets things started and keeps life simpler. Detroit area Hyundai shoppers can also ask for a panoramic roof or ventilated seats. A wireless charger can eliminate the need for messy cords.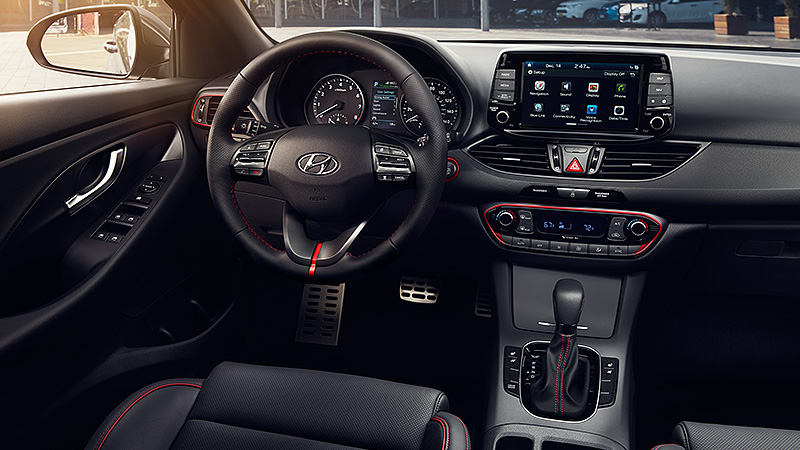 Exterior
Although the new 2018 Hyundai Elantra GT near Detroit MI is wider than its predecessor, it is actually lighter. The new build allowed it to slim down by 61 pounds. A lower stance is fronted by a cascading grille. This design is flanked by slender new lights that curve away, creating an eyelike shape. The new hatch is more upright and wears a short rear overhang.
Mechanical
Two transmissions are offered on the regular GT near Detroit MI. The first is a six-speed manual, lots of fun for the driving enthusiast. The second is a six-speed automatic transmission, offering the ease of electronic shifting. 2018 Elantra GT Sports have a special seven-speed automatic. These transmissions use a special dual-clutch setup to help increase power outlay. Despite the emphasis on speed, the GT lineup has electronic systems to manage traction and stability. These regulate wheelspin, even slowing the vehicle if necessary to achieve balance or ensure adequate stopping power. GT Sport editions also have bigger brakes to help balance the speedier ride with adequate stopping power. Both models have a stiffer frame to improve handling. After you read this 2018 2018 Elantra GT review, the staff at your Detroit Area Hyundai dealer can tell you more about the vehicle's intelligent systems.
Performance
Serving Southfield Detroit Waterford Michigan, Hyundai Elantra GT hatchbacks come with a choice of engines. Allowing you to do even more with these engines, the new lighter weight build improves the weight-to-horsepower ratio, This way every horse under the hood can do more. Regular GTs have a four-cylinder engine. This inline setup can generate 162 horsepower. If you want more, you can step up to the Detroit Area Hyundai GT Sport. Its turbo I4 cranks out 201 horsepower and 195 lb.-ft. of torque. Handling is sharpened by its fully-independent multilink rear suspension.
Safety
For the first time, the 2018 Hyundai Elantra GT offers a full suite of safety systems. If a collision warning goes unheeded, autonomous emergency braking may intervene to reduce the chances of a crash. Also, if the driver doesn't respond to a lane watch quickly enough, a lane assist will tug at the wheel to straighten up the GT in its lane lines. The high beams can raise or lower to match light conditions, rather than waiting for a driver's action. During cruise control, the adaptive system slows the car when it recognizes stopping cars ahead. Hyundai Elantra serving Southfield Detroit Waterford have special blind zone mirror inserts to help the driver avoid collision scenarios. GT Sport editions near Detroit MI have the added protection of an electronic blind spot monitor. Using Blue Link, drivers can ensure a safer ride by activating the rear defroster or the power-defrosting side mirrors before arriving at the car.
Your Detroit Area Hyundai dealer has the answers to your toughest questions about the 2018 Hyundai Elantra GT.