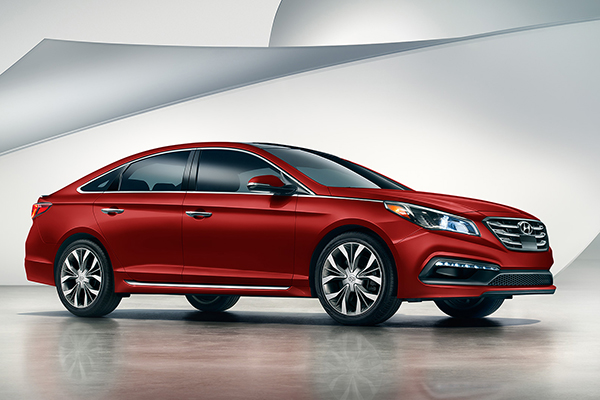 Overview
There are few enduring staples like the midsized sedan. Once a symbol of a burgeoning middle class in post-war America, the models in this segment remain a pillar on which all car manufacturers rely. In the modern era, midsized sedans are expected to be extremely reliable, tech-rich and fun to drive. The midsize sedan is capable of safely transporting a family, cruising on the highway or hauling some light cargo from place to place. The modern midsize is expected to offer all the utility someone might need while being far more convenient and operable than larger SUVs or vans.
Glassman Hyundai is your Southfield Hyundai dealership, offering the 2017 Hyundai Sonata for Sale in Southfield with Hyundai Sonata new specials. If you are considering buying a Sonata for sale, why not check out the Hyundai Sonata new specials available at Glassman Hyundai? After all, few cars provide the same value as the Sonata.
There is a reason the Sonata is a best-seller, and there's a reason you should check out the Sonata for sale at your local Hyundai dealership. When it comes to versatility and quality, the 2017 Hyundai Sonata is universally praised by professional car journalists and reviewers. With its widely lauded tech features, entertainment options and performance, the Sonata has established itself as one of the best cars on the road. The Sonata is mentioned in the same breath as the Honda Accord and Toyota Camry as best in class, while being regarded as a better all-around car than midsize mainstays like the Passat or Altima.
Interior
The plush and comfortable interior of the 2017 Hyundai Sonata has won wide praise from experts and reviewers. The Sonata provides excellent tech features. The steering wheel provides a powerful full array of available controls that can keep you engaged without taking your eyes off the road. The bright touchscreen controls offer a wide range of features that are quickly and easily accessible. The climate control system is comprehensive without being incomprehensible and the premium sound system was credited as being better than the most of the Sonatas competition. With heated seats, class leading interior volume and available sunshades, the Sonata is a class leader among their midsize rivals. The interior offers both high-grade fabric and leather options.
Exterior
Whereas some car companies feel the urge to attract the eyes by adding on cluttered or unnecessary visual flourishes, Hyundai have chosen to take a classier, more refined route to maximize the exterior attractiveness of the Sonata. The front end swoops smoothly into the sides of the car, giving the car an aggressive yet sleekly aerodynamic appearance that is both appealing and well designed. Nothing is out of place, exaggerated or unnecessary for this fantastic vehicle, giving the Sonata a classy and elegant look that meshes well with the understated quiet confidence that Hyundai have produced.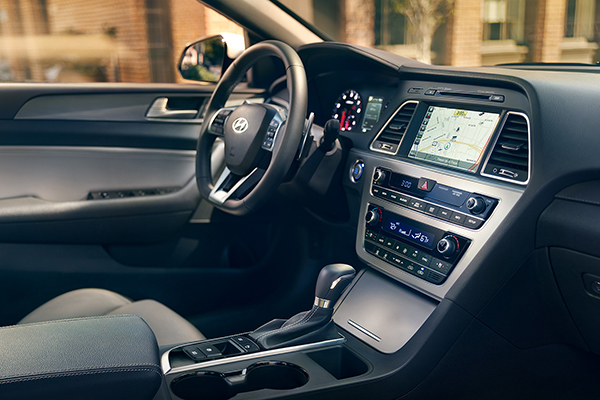 Mechanical
The 2017 Hyundai Sonata is built upon a strong, brilliantly engineered platform that gives it an edge over most of its competition. Hyundai opted for lightweight aluminum suspension components that provide stability and poise while also providing weight savings for most invigorating driving dynamics. Hyundai engineered a more rigid chassis that provides a quiet, relaxing ride that drowns out road noises and confidently smooths over uneven driving surfaces. A more connected steering system gives drivers expert driving response and precision control. If this has your heart racing, why not stop by Glassman Hyundai, your local Southfield Hyundai dealership, to test drive the phenomenally engineered Sonata for yourself?
Powertrain
With four strong options available for a car buyer to personalize their car, the Sonata offers a number of powertrain options to satisfy any need. The Sonata offers a standard 185hp 4-cylinder that is matched with a 6-speed automatic. A 1.6L turbo hybrid is also available, providing excellent efficiency as well as a strong 178hp. For the really daring, Hyundai offers an roaring 245hp 4-cylinder turbo option that will leave its competition in the dust, offering stunning performance without sacrificing efficiency. The only thing faster than a Sonata turbo is the speed at which they sell, so contact Glassman as soon as possible if you're looking to test drive a 2017 Hyundai Sonata for Sale in Southfield.
Safety
If you can think of a possible safety option, the Sonata offers it, including extremely high end features that are usually only available from the most expensive luxury brands. High tech driver assists like automatic braking, which senses danger and responds faster than a person can. The Sonata additionally offers tech features like cross-traffic, rear-traffic and blind spot monitoring to keep you aware of the dangers you might not be able to see. A backup camera and lane departure warnings will let you know if you are veering into unsafe territory, and the Sonata comes equipped with a five star crash safety rating in case something goes wrong.
Make no mistake about it, even a written argument that lays out what makes the Sonata so special fails to properly convey the quality of these cars. Only scheduling a test drive and driving one for yourself will truly show you how amazing the 2017 Sonata truly is.
Glassman Hyundai is your Southfield Hyundai dealership, offering the 2017 Hyundai Sonata for sale in Southfield with Hyundai Sonata new specials available all the time. If you are looking for a Sonata for sale, contact their helpful staff immediately to set up a test drive today!